Posted by Dave Bull at 4:40 AM, February 2, 2011 [Permalink]
Carving of the colour blocks for the Urashima Taro design is coming along well, and should be done by the end of the week.
I had to call up Kaori Seki - the designer of this image - this evening to ask about a detail of the design, and while talking with her, asked if it would be alright if I uploaded a couple of other images of her work, so that people could get an idea of what she is doing. She said OK, so here you go! (clickable)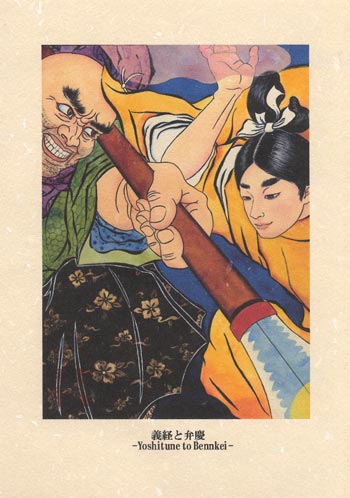 These are scanned postcards from the five that I purchased from her at the Design Festa last year. The top one is from a series she has done on historical episodes. Her spelling on the title is a bit off, but if you Google 'Yoshitsune and Benkei' you will learn about the famous battle at Gojo Bridge.
The second is from a set of 12 images of the traditional calendar months. This one is equivalent to October/November period. I don't know if there is a 'story' behind her image ...
As I mentioned before, when I visited her home she pulled out book after book and box after box of drawings and fully worked-out images. I thought it was a treasure trove, but I hope she can start to work on her p/r a bit more, because hiding this stuff away isn't going to help anybody!
If you have any comments, please leave them below, and I'll see that they are passed on to her ...