Posted by Dave Bull at 4:30 AM, January 31, 2011 [Permalink]
A commenter to the previous entry asked to see a close-up of the little fish ... so here we are (clickable):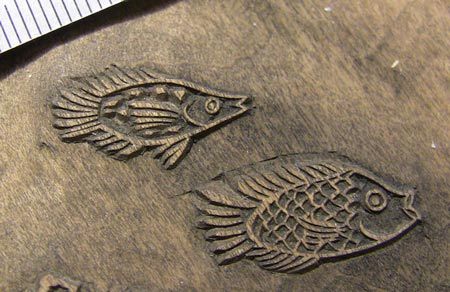 They aren't actually all that elegantly carved, but I think at this scale - the ruler divisions are millimetres - it'll do!
So with the key block done, the next step is to work out some colour separations. Seki-san gave me a guide to work with, showing the kind of colours she has in mind for this, and I worked out a block set that should get us close.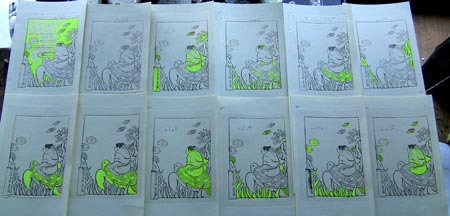 I say 'close' because I'm not going to simply cut one block to match each of her colours; I'm going to build them with overlays. She wants some green tones for the sea grasses at the bottom, but I won't be using any green pigment at all when I start printing. She called for a murasaki purple on some of the plants and one of the fish, but I won't be mixing that either.
All the pigments I will be using are transparent, so it'll all be done with A + B ... and +C ... and etc. etc. If you click to bring up the enlargement of that last photo, you'll see that there are very few areas of the image that are covered by only one block, and some of them are 'hit' by three or even four.