Posted by Dave Bull at 4:46 AM, January 30, 2011 [Permalink]
Lots done over the past few days, but not too much that I can show here, beyond this quick webcam capture of the key block for #1 - Seki-san's design of the Urashima Taro legend.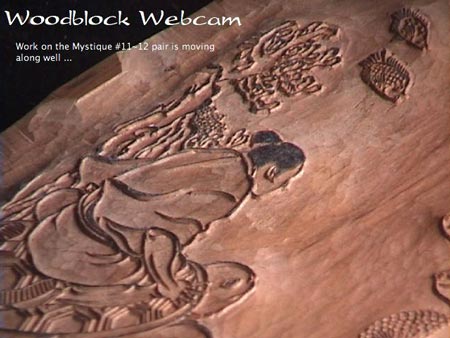 As you can see, the key block is nearly done; I just have to work out his hair.
Among the other activities that have eaten up the time have been getting the winter newsletter out the door (it'll be up on the site perhaps in a couple of days), and making a trip to Tokyo for the new year meeting of the craftsmen's association. That went well this year, as you can read in the Story A Week published this morning.
I was also down in Tokyo a couple of days earlier, making a visit to young printer Hirokazu Tetsui, and to drop off some blocks with him! I had promised myself that once the mortgage payments were 'history' I would start using some of that money for advancing the Mokuhankan venture, and here we go ... (I'll be posting more details about Tetsui-san and this job sometime soon over on the 'Mokuhankan Conversations' website, which I have been neglecting recently. I'm not quite sure how to handle the distribution of the 'news' from now on ... and there might be a bit too much cross-posting ... We'll see.)
Anyway, his first job will be to run up a batch of 100 copies of the Heron and Crow print from the Mokuhankan catalogue. Doing postcard-size prints certainly isn't the kind of work that he hopes to get from me, but this is where we will start, and if he brings in a good job, I'll feed him some stuff that will offer a bit more challenge. I don't have any opportunity to carve anything new for him, but we'll work on getting a number of my Surimono Album designs done. The first album in that series has been out of print for a couple of years, and the second is now on its last few sets; getting all 20 of those prints into the catalogue will take a while, but it will be a good addition once done.