Posted by Dave Bull at 7:22 AM, August 1, 2010
This thread about paper sizing is continued from here, and started here.

After yesterday's unforeseen delay (check the Comments in the previous post ...), it was back to work on the sizing experiments today.
First on the job list was a quick set of printing tests, using strips of paper cut from the sample sheets I sized the other day. I just grabbed a little blank strip of cherrywood, and printed it in a flat colour, doing it twice - overlapping to see how well the paper would take pigment.
I also picked up a nearby keyblock, and did a bit of 'delicate' work as well.
With all the strips from the 'junk' paper that I tried culled out, here are six pieces of Iwano's hosho paper: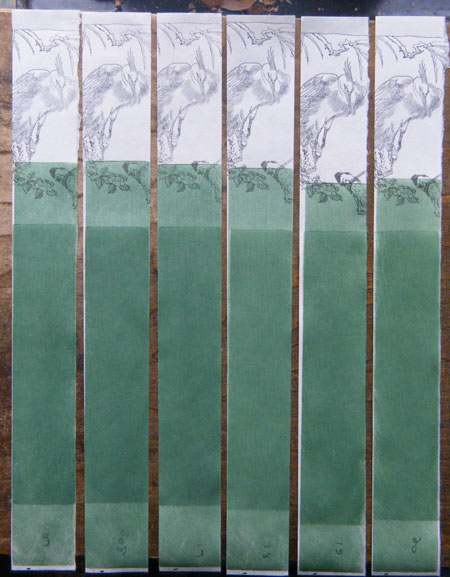 1) light size, one side only, 1/2 recommended alum
2) as 1) but sized on both faces
3) and 4) as 1) and 2) but with the size applied more heavily
5) and 6) as 1) and 2) but with the alum at 'full strength' (1/2 of the weight of the glue in the mix)
The results ... well, it's kind of good news/bad news. The good news is that all these strips printed quite well. There were no problems with the paper sticking to the wood (indicating too weak on the front), tearing on the back (indicating too weak on that surface), or 'disallowing' pigment entry into the paper (indicating too much alum). If the paper I have been recently receiving from the sizing craftsman was all like this, I would never have complained, and never started this whole project ... So the short story is that this is going to work! Woot!
But now, the bad news. I can't tell the difference between these test strips! Some have double the alum. Some have double the amount of size. And none of them were brushed nice and smoothly, as you saw the other day. But they all came out pretty much the same ...
Hmmmm ...
In any case, I made another practice run today. I have to get the brushing better, no doubt about that. And I added another variable to the mix: doing some sheets on the second face right away, and some after the first had dried. We'll see if that makes a detectable difference.

This thread about sizing continues here.
* * *
And to finish off today ... an update ...