Posted by Dave Bull at 8:27 AM, August 2, 2010
This thread about paper sizing is continued from here, and started here.

After the non-committal results from yesterday's 'strip' test, I tried something a bit different today. After the half-dozen sheets from the sizing run were dried, I cut some pieces from each one and headed down to the workshop to make a real test - using some of my blocks to make actual prints, not simply test strips.
This was much more enlightening. We can dispense right away with the kind of comment I heard yesterday - about how good I am at this. This is very poorly sized paper!
It was apparent right away, as I started moistening the blank pieces before printing. Parts of each sheet took up the moisture far too rapidly, while others areas were more like what I am used to. Even after letting them sit under cover for a couple of hours to even out, they refused to do so. It seems as though there are areas that are almost 'unsized', and those places just suck up the water far too much.
I waited until it seemed to have reached a basic stability, then made a run of half-dozen copies of one of the little Gift Prints I have: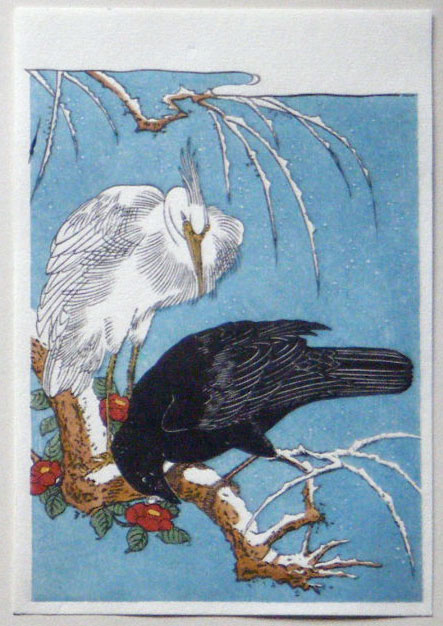 And here we have another surprise ... Even though the paper was clearly not 'good', the resulting prints came out just fine. And after they were dry it was impossible to find the areas that had been causing problems with moisture absorption.
So ... I guess I can see where this is going. I now know that I can produce prints on paper that I have sized myself, but I can also see very clearly that I really have to get the brush motion down much more smoothly. Given that I have no stock of other paper available, and with collectors waiting for the next one in the 'Mystique' series in a couple of weeks, I'm going to move forward and try a 'real' batch. I'll cut enough paper for the edition, and will include in the sizing stack a considerable number of 'practice' sheets of junk paper, which I will toss out later. Hopefully, after I get going on the batch, I can develop a basically smooth motion with the brush. We'll see ...
I'll start tomorrow morning, and will put the Webcam in the kitchen, to try and catch a bit of it ...

This thread about sizing continues here.