Posted by Dave Bull at 4:17 AM, July 20, 2010
It's difficult to remember what I've written about here on the RoundTable - did I mention the sizing problem before? Well, for readers who aren't up-do-date on that situation, some info is in a recent Story A Week episode.
That story mentions 'mid-summer' as the crunch time, and here we are ... The packet of paper arrived the other day, 400 sheets of hosho from Iwano-san, enough to last to the end of the Mystique series: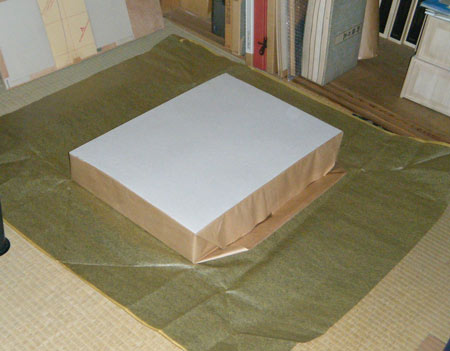 It is, of course, unsized, which I had requested, but it is also trimmed, which I had not. Back at the beginning of the year, when talking (face to face) with Iwano-san about this order, I very carefully gave him my requirements for the dimensions, going to far as to draw a diagram of what I needed - a rectangle with the dimensions (a size adequate for four of my print pairs), surrounded by the 'mimi', the selvage. But somebody in his workshop misinterpreted this, and trimmed the whole stack, removing all the selvage.
Does this matter? Yes, of course! When applying the sizing, the paper has to be hung up to dry and this is normally done with clips hanging from cords strung along the ceiling. These clips leave marks in the paper, but as the paper is (normally) oversize and gets trimmed at the end of the process, no problem.
But this paper is trimmed to the exact dimensions I need on the blocks, and is unsized. And what is worse, most of the prints in this Mystique series will not be printed right to the edge of the final dimension - which could help flatten out any marks - but have an embossed pattern around the edges. Any tiny marks left in the paper by that drying stage will be absolutely and clearly visible in the finished print. So clips are 'out', and I'm going to have to find another way to dry them ...
Um ... after I learn how to do the sizing, that is!
More on that, as it takes place over the next couple of weeks ...

This thread about sizing continues here.