Posted by Dave Bull at 7:17 AM, August 3, 2010 [Permalink]
This thread about paper sizing is continued from here, and started here.

So, here we are with what - I hope - will be the final entry in the sizing saga. I ran the batch this morning, and by just before noon, they were all dry. Here they are, hanging in my bedroom upstairs: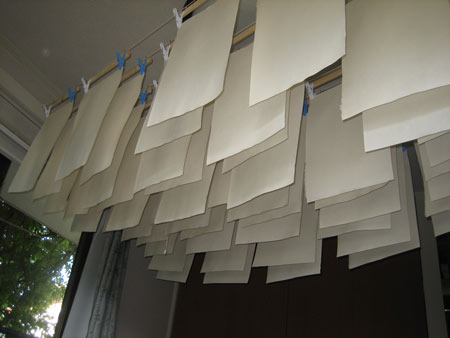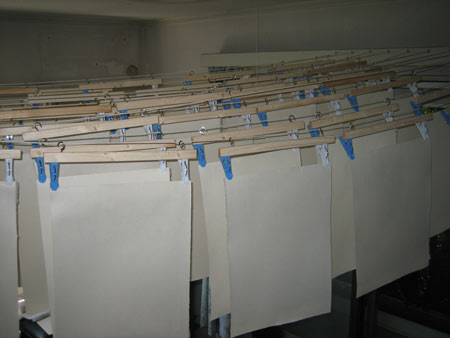 The job went pretty smoothly, and because there were 60 sheets in the batch - compared to the previous test batches of just a few sheets each - I was able to really get a much better 'rhythm' in the work. Some things I learned:
I'm not 'strong' enough to make a good full stroke with just the arm, as the brush really has a lot of resistance on the surface of the paper. Shifting from one foot to the other as I move across the sheet (shifting the body weight), really helps keep it moving smoothly.
The 'angle of attack' of the brush on the paper is critical. Too vertical and the sizing all dumps out quickly. Keeping the angle lower helps control the flow of the liquid steadily.
After dipping and wiping the brush, you have to hold it horizontally in the moments before you make contact. If held vertically, it not only tends to drip, but all the liquid gathers at the tip, and then gets 'dumped' right away. Holding it horizontally until the very last second seems to help with this.
In the interests of 'keeping my options open', I sized only the front surface of the sheets. The tests the other day which had just a single face sized were no problem, so I'll give it a try this way first. If something goes wrong at printing time, I can always dry the paper off, size the back side, and then resume ...
So it should be time to move on to the printing, but unfortunately there has been another interruption. Some people from NHK are coming over tomorrow to discuss an upcoming show they want to do with me. I don't have many details yet, but this one should be of particular interest to RoundTable readers, because it is intended for NHK's overseas networks, and the program (30 minutes proposed) will be in English.
* * *
In the meantime I'll 'keep busy' by getting started on the keyblock for image #6, the one that shares the block with the Hasui image we saw earlier.
First step is to scan an original of the print, and then trace all the key lines with my tablet. Here's what it looks like so far: