Posted by Dave Bull at 3:57 AM, August 16, 2010 [Permalink]
There certainly hasn't been much time this past week to sit around posting to this RoundTable; with 130 sheets of paper in the stack, nearly 20 impressions on the design, and the thermometer rarely going below 30C, even at night, it has been a question of 'every minute counts'.
But last night saw the final (embossing) impression, and the stack is now dried, trimmed, and ready for inspection and signing. And yes, it is still a kick - even after all these years - to have them all in a stack like this ... before they fly off around the world to their new homes!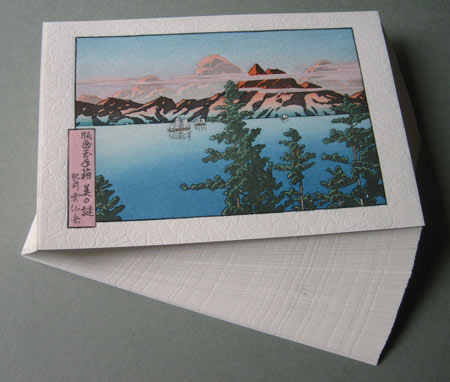 I should perhaps mention something about the sizing - after all, this is the first time I have ever made a batch of prints on paper that I sized myself. The results were mixed. One the one hand, the experience was very positive - the paper printed very nicely, was completely stable through the entire process, and was very receptive to the pigments. But there were a couple of negatives: one was that the lack of sizing on the back side of the sheets (this was my choice) meant that I constantly had to use a protective sheet under the baren, and this is big nuisance when doing a lot of printing. The second problem was the inconsistency from sheet to sheet, due completely to my inexperience at brushing the sizing onto the paper.
So next time I'll have a go at doing 'both sides' sizing, and hopefully my brushing technique will steadily improve, so these negatives should at some point be a thing of the past!
Next job at hand will be to finish up the tracing of the sumizuri image (#6), and get going on the carving. (Again, these first batch of these two prints are being made separately; the second batch will be done together, as planned ...) Before that though, I have to get the summer newsletter written and produced, and catch up with all the waiting office work (invoicing, back issue shipping, etc.)
And there will be a bit of an interruption tomorrow, as some people are coming for an interview and photos for a magazine story. I mentioned in the comments the other day that when their request came in I had to laugh. "You want me? Really?"
Yep. People from Playboy (Japanese edition) are coming over tomorrow ...