Posted by Dave Bull at 10:25 AM, April 30, 2009
When I was preparing to produce my Hanga Treasure Chest a few years ago, I haunted the auctions of woodblock prints on eBay, looking for interesting items to include in the set. Since then, I haven't been much of a print buyer, and given that 'bargains' seem to have become very thin on the ground on eBay these days, I haven't bothered much with it.
But plenty of my friends are active over there, and one of them sent me an email the other day, letting me know that some of my own prints were being auctioned. Or I should say, 'have been auctioned'. Here's a snapshot of a listing of 'completed auctions' done on a search of my name: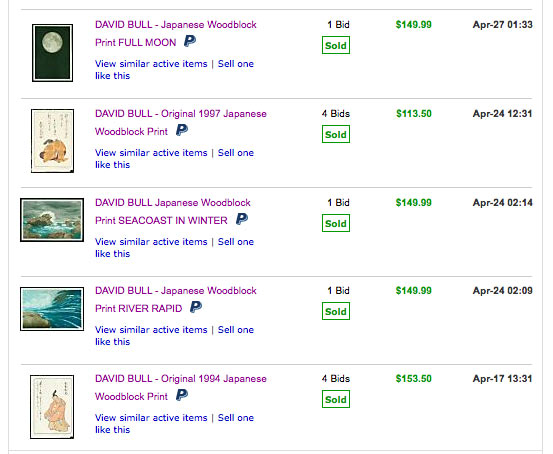 This was really interesting to see, for a couple of reasons.
First is that the price paid for the prints from my current 'My Solitudes' series is almost exactly double what I myself sell them for. Given that I myself don't sell them individually, but only in the complete set of 12, this price presumably reflects the 'premium' that the purchaser is willing to pay to have just one from the set.
I get frequent requests for 'just one, please', but always regretfully decline. I make roughly the same quantity of prints for each one in the series, and if I started selling the 'favourites', I would end up doing nothing but re-printing endlessly.
(Eventually, at some point in the future, when my own 'batch' (I want to avoid using the word 'edition') is all sold out, the designs will presumably be used in my Mokuhankan publishing venture, as single designs. One day.)
Another point of interest (and regret!) was that the seller hasn't included the books. I guess he has tossed those aside, just pulling the prints out for sale. That stings a bit, but I guess I can't complain; obviously the main interest is in the print, and not the story. (But I don't dare tell Ichikawa-san, the part-timer who does all the bookbinding for me, about this!)
**
I know who the seller is, and in fact, he has written to me recently asking to purchase some more copies. I have to decide what to do about his request. I was talking about this with my daughter last night (on Skype video) and her advice was clear and direct. "Dad! You do it! Start putting them up on eBay one by one, and you get the profit!"
But there is no way I can do that. I put the series on the market as a subscription set, and to try and 'burn both ends of the candle' and get revenue from single sales also, seems kind of unethical to me. A newspaper can sell both by subscription and at the news-stand (for higher prices for the single copies of course), but I don't think my situation is equivalent. (I should mention that I'm not upset or angry about what the seller is doing; he is of course perfectly at liberty to do whatever he wishes with the prints he purchases from me. Nothing 'unethical' at his end ...)
Anyway, it's kind of a moot point, because as I said, I make a roughly equivalent number of each print, and I really don't want to break up the sets. Once I'm done, I'll be able to count up my stock, and will then have some prints 'left over', as the numbers never work out exactly evenly.
In fact, this is exactly what is happening soon with the Hanga Treasure Chest. I'm now down to the final dozen sets or so left in stock, so will soon be doing such an inventory check. The 'odds and ends' that remain could/should be sold individually I guess. (And as there is no way that I myself can reprint the series, I suppose those blocks too, should be moved over to Mokuhankan, for 'outside' printing and inclusion in that catalogue.)
All in all, seeing these prints of mine appear on eBay is perhaps a bit gratifying. I never make any kind of claim to my collectors that their prints are an 'investment', and I really dislike such thinking. But I guess they won't be too heartbroken to see these prices! :~)
[Edit: I just realized that the eBay search image above only shows completed auctions. If you search for other prints with my name, it seems there are some still available. Get over there and run up those prices!]