August 2, 2006
I've been a bit delinquent in keeping these pages up to date ... Part of that is the pressure of other work (Mokuhankan, Small Print Collection, Story a Week, Hyakunin Issho newsletter), and part of it is that there isn't too much to talk about for this kind of work. See one block being carved, and you've pretty much seen all there is to see! But here are a few shots to give you an idea of how the days are passing ...
This shot must have been taken just after Tamura-san, my neighbour across the river, took his weed-eater and chopped down his long grass. You can see the patch of 'fuki' plants clustered around the base of one of the pine trees. It seems his wife has told him to leave them alone! When I sit carving, as I look to the left I am looking upstream, and try not to waste too much time watching for the kingfisher who lives on this stretch of the river ...
This is the block that will be used to print the heavy black outlines of the kimono (one of the last blocks that will be printed). You can see my sharpening stones ... always within reach down at my left ...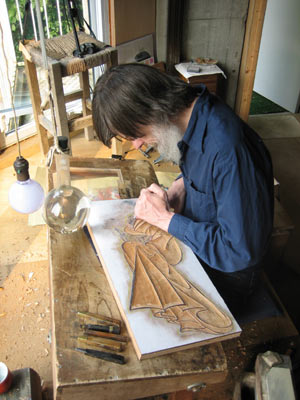 The panel on which I sit is free-sliding, and I can move the carving bench forward or back as the light changes through the day ...
Here are a few of the pattern blocks ... As is my usual pattern of working, I do the more complex and time-consuming blocks first ... trying to avoid unpleasant schedule surprises later!
Such a pleasant room in which to work .... at this time of year!