Posted by Dave Bull at 8:14 PM, June 29, 2013 [Permalink]
For those of you who have been waiting for the next report on the attempt to capture photo/video of the nocturnal raider of our loquat tree, as reported a week or so ago, I have to report utter failure.
I have tried night after night, always with the same results: - nothing in my camera come morning, but always a scattering of empty skins here and there around the tree. I guess last year I was luckier than I knew!
But all is not lost! This afternoon was a computer day for me, and I ended up sitting facing that same tree for most of the morning and afternoon. The loquats are now almost done, and the few that remain are pretty much rotted and soggy. No good for human consumption, but ... very attractive to some other small-scale visitors, like this little couple (which turned out to be a parent/child pair ... (click for enlargements ...)
These are the little guys known as mejiro in Japanese, which translates directly as 'Japanese White-eye', the only possible name for them, really.
They were all over the tree all morning, stuffing themselves full, flying away, and then returning about 20 minutes later for another go at it.
I of course set the camera up on a steady tripod, and managed to get this one too!: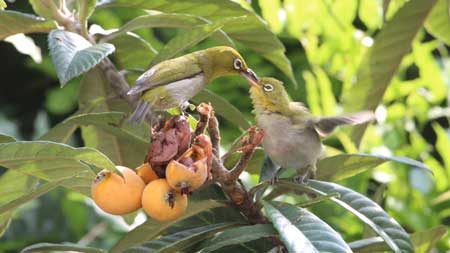 I then switched the camera to HD video mode, and the actors continued to perform according to the script. I'm not quite sure when I'll get time to edit the resulting footage, but I'll let you know when I've got something ready ...