Posted by Dave Bull at 6:48 AM, May 2, 2011 [Permalink]
Look at that - the keyblock to #13 is done already, and you didn't even know it had started!
It has been a crazy busy few days here:
got the senshafuda orders up and running
finished the colour brochure for them and got it off to the printer
selected the image for Mystique #13, scanned the print (this will be a reproduction), traced it, and got it pasted down for carving
finished up the final layout on the spring issue of the newsletter, and got it off to the printer
made a trip to the tax office to register for the tax deductions I will have to be making on the payments to the Mokuhankan 'staff' for their work on the Senshafuda project
got a bit sidetracked by a computer sale pamphlet, ordered a new (used) laptop for the workshop downstairs, and tested some video streaming
the video tests looked good, so went ahead and rebuilt the Woodblock Webcam - now full motion video!
re-wrote the php scripts for the webcam Message Board - which is now more of a 'Chat Board' (including more than two completely wasted hours of debugging that turned out to be a misplaced comma!)
got 350+ envelopes ready for newsletter mailing, stuffed and mailed them all ... (including the colour brochure for the Senshafuda project)
something else ... can't quite remember what it was ... Oh yes, cut that keyblock!
And for the first time, nearly all the cutting work was done 'live and online', in full view of millions of viewers! Well, it could have been millions, but some of them were busy with other things, it seems. To those who did check in, thanks for watching, and for the comments and suggestions.
About this print. As I mentioned this one is a reproduction, but I have adapted it quite a bit from the original. Here's an image; this is the Library of Congress copy, which itself is a reproduction, and which they have mis-attributed - their copy was made by the Takamizawa Company, not Adachi. I have the - microscopically - identical print.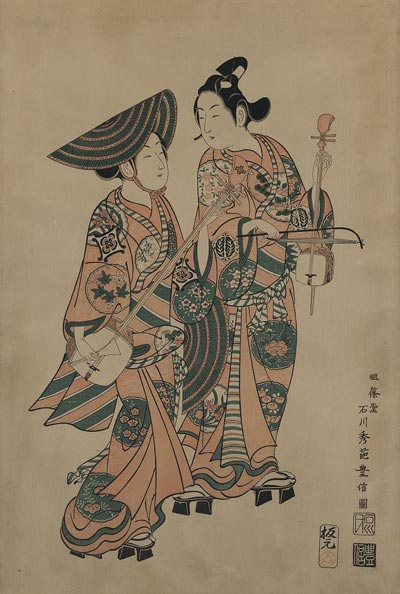 What looks at first like a genre view of a couple with musical instruments is - by the presence of an actor's mon on each person's clothing - shown to be a scene from a kabuki play. The research tells us that the shamisen player is the actor Nakamura Kiyosaburō, and it is his portion of the print that I have 'trimmed' for my own use.
The original is the type of print known as a benizuri-e (literally: red-printed picture, but actually always done in red, green and black). It was a kind of 'in between' step between prints done in black (with optional hand-colouring) and the full- colour work. When it comes time for me to print it, I will have to decide between two radically different approaches to printing, but more on that later, when we get there ...