Posted by Dave Bull at 5:18 AM, January 26, 2011 [Permalink]
Today saw the rest of the image and block preparation, and carving has finally begun. After the Photoshop tracings were finished, I scaled the two images to the proper size, de-saturated them (to print cleanly on my monochrome laser printer), and printed them out onto my homemade hanshita paper - a laminate of standard copy paper and very thin gampi washi:


The thin gampi is only lightly attached to the backing sheet (with 'low tack' spray glue) and is easily separated after printout.
Then it was down to the workshop for the rest of the process ...
I printed out a copy of the 'outline block' onto a thick stable sheet:
That gives me the location of the image areas. I then peeled the thin gampi off its backing sheet ...
... and laid each piece in place on the outlines. Here is the finished hanshita, ready for pasting onto the wood. (I haven't received the calligraphy for the two image titles from Tauchi-san yet, so have just left those spots blank. I will paste those down separately later.)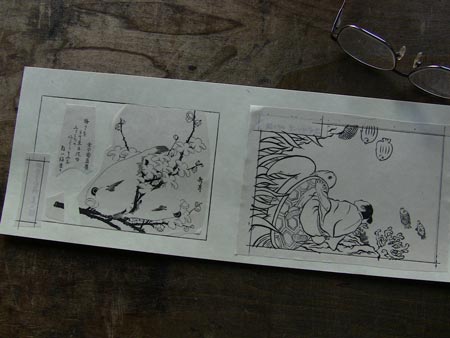 But before these can go onto the wood, there is another important job to be done. Because there is an area of very fine calligraphy on one of these images, I will have to inlay some boxwood at that appropriate place. This cherry wood is hard, but not hard enough for carving like this.
I described the actual inlaying process on an earlier page of the RoundTable here. An hour or so later, here we are, ready for the pasting step:
Once it's down, the backing sheet peels off, leaving only the gampi behind:
And here we go ... a few strokes just to get back into the swing of it. After dinner, I'll get back down here, switch on the webcam, and get to it in earnest!