Posted by Dave Bull at 12:38 PM, November 21, 2009
Continued from [Forest in Winter - 2] | Starting point of the thread is [Forest in Winter - 1]

So, the little Gift Prints are now all back 'in stock' waiting to be sent off to places around the world, and I can now get back to work on the Forest in Winter ...
There aren't actually going to be so many impressions on this one, so that makes the proofing a bit easier. And as the basic concept is set - sunlight on snow in the forest - I certainly know where to start. This one is going to be all about the 'contrast' - how dark to make the darks and intermediates in order to let the brights (the bare paper) shine properly.
Anyway, here we are ... time for the 'corkboard' test; I finished a proofing batch last night, but didn't attempt to study it too closely. I dried it off, and then last thing before heading for bed, pinned it up on the corkboard. How it would look in the morning - with fresh eyes - would be more relevant ... Here it is (remember, this isn't 'final', just one sheet from the initial batch of a few copies ...)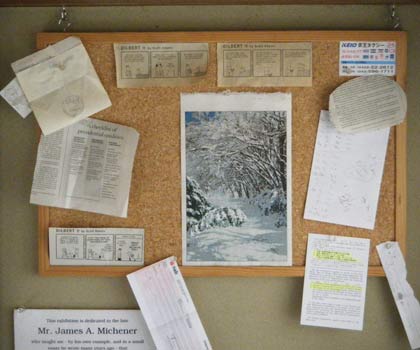 That doesn't look so bad for the first shot. When I do some more tomorrow, I'll work on the contrast end of it, to see where the best balance lies.
But looking at it a bit closer this morning, I see that I have an 'issue' with this one. It's something that has been dogging this entire series, and on this design, it has become a real problem.
I think I may have talked about this in an earlier RoundTable post - it's the question of the proper 'scale' for any particular design. This design doesn't look so bad in that photo above; we are standing 'back', and thus the perspective in the design makes sense. And we are far back enough that the individual dots and lines aren't visible - we see the 'forest', not marks on paper.
But these prints aren't being made at a scale that allows them to be seen 'on a wall' in this fashion. After I finish printing, they will be passed to helper Ichikawa-san, who will then insert them into the books. The collectors will receive the package, open it up to the print page, and unless they prop the book up on a table and step back and look at it from across the room, all they will see will be a muddy jumble of dots and lines (click this for an enlargement):
A design like this doesn't belong in small-scale stuffed inside a book and viewed at a funny angle - it needs to be seen at a scale that makes sense! Here's a mockup of how this design could be presented!
So I don't know ... At this point, I don't see what else I can do except press on. I can't jump back in time three years and re-organize the project!
Anyway, here's a closer view of the proof (clickable). For the next batch I'll try and find a way to balance the requirement for having dark surroundings to make the snow bright, but without making the overall feeling too muddy and gloomy. Those tree trunks over on the right have to be darker, for sure. And that dirty sky has to be turned into a fresh light 'morning' blue ...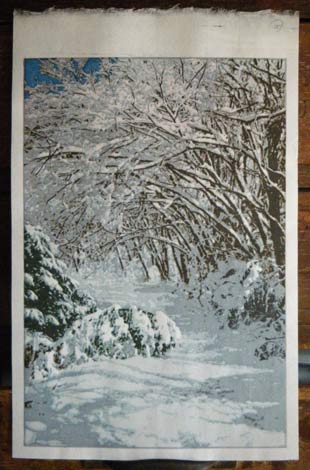 The thread continues in [Forest in Winter - 4] ...