Posted by Dave Bull at 10:01 AM, October 9, 2009
Here we go! The 'Your First Print' RichMedia eBook is now ready to go!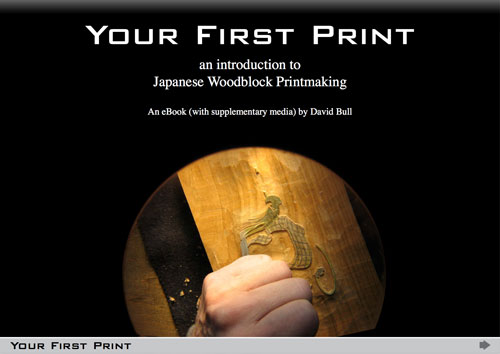 Reaction to the trial versions that I passed around to a few friends and 'testers' over the past week has been very encouraging. They have found the book to be not only a very useful resource for this craft, but to be something interesting and attractive in its own right.
The book is crammed with multi-media - dozens of audio and video clips - in addition to a great many detailed photographs, covering every aspect of the process of making a print.
The book is nominally aimed at the complete beginner, but there are very few experienced printmakers who would not enjoy (and perhaps learn something from!) this volume.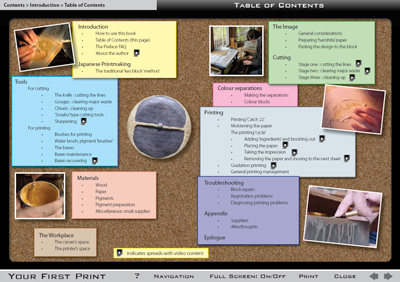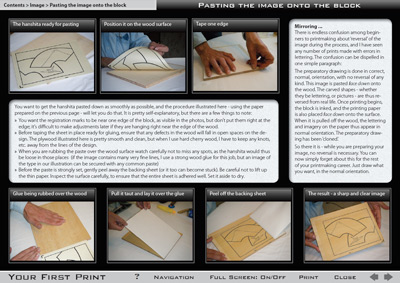 For more information on the eBook, please visit this page of my Mokuhankan webshop. Linked from that page, you can find a sample file to download and try out, containing more than 20 complete pages from the book, including videos and sample audio files.
I have also created a 'support area' where owners of this eBook can access additional information, ask questions, and share their experiences of woodblock printmaking as outlined in the book. This support section - dedicated strictly to these Japanese traditional techniques - is already 'up and running', and can be found here.
I look forward to hearing what everybody has to say about this book ... it has taken quite a bit of work to put together, but it has been a lot of fun.
(Thanks also to [Baren] member Mark Mason, for his professional assistance with some of the graphics in the book. Meow!)