Posted by Dave Bull at 10:27 AM, October 1, 2009
Do you think the Woodblock RoundTable has been just too quiet for the past month or so? Well, it certainly has, but don't jump to the conclusion that this has anything to do with the 'procrastination' post I made a while back. Far from it.
Time for an announcement. (Trumpets!) I have spent most of the last month busy with keyboard, camera, audio recorder, and video camera, and am ready to let the results loose. My first, and very much long awaited (by me!) book on woodblock printmaking is about to be published.
Is this my mythical 'Encyclopedia of Traditional Japanese Printmaking', about to come to life at last? Nope. You'll have to wait a bit longer for that one. The new book is entitled 'Your First Print', and is a complete guide to 'everything you need to know' to make a woodblock print using the traditional Japanese methods. Everything from information on the tools and materials, right through a very detailed step-by-step explanation of the whole process.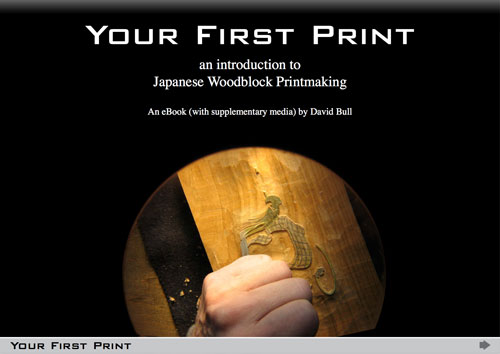 As you can see from the title page, I am issuing this as an eBook. But not just an 'ordinary' eBook - as a RichMedia eBook. Using modern technology, it is now possible to embed multi-media items within a .pdf file, and that is what I have done: the book contains the normal text and images that you would expect, but also has plenty of audio and video content too. You've seen the Harry Potter magic books where the images come to motion as you turn the pages ... well, here it is in real life! And it works on both Macs and PCs.
On this page, for example, which discusses gradation printing:
... the image in the top right hand corner is 'hot'. When you click it (not here, but in the eBook), it starts to play, and you watch (and listen) as I narrate a session of gradation printing.
There are videos on each step of the carving process, of course on the printing, on sharpening, and even a visit to my workroom as I spend a day carving one of my own blocks.
For more information on the eBook, please visit this page of my Mokuhankan webshop. Linked from that page, you can find a sample file to download and try out, containing more than 20 complete pages from the book, including the videos on sharpening and gradation printing that I just mentioned. Give it a try!
I'm not taking orders for the book just yet, as we are still in the final stages of editing, but I'll let you know when it's ready for downloading. Soon!