Posted by Dave Bull at 12:09 AM, June 7, 2009
Continued from [Forest in Summer - 1]

Even after getting the design nailed down on this one, moving to the carving step has taken time, well over a week. I've been wresting again with that same question - how realistic, how abstract.
The previous print - the water reflection - used no 'camera assistance'. There is absolutely nothing real in that image whatsoever; everything you see was created by me from nothing. (Yet interestingly enough, I've still had comments about how 'real' it looks!)
But given the idea that I mentioned in the previous entry discussing this current print - to really 'zoom in' close up on something - I don't quite see how I can avoid moving back toward the realism. I don't really see how 'close up detail' and 'abstract' can be very compatible with each other.
So I looked over the prints that are done so far (and the ideas I have for the couple yet to come), and figured - alright, this might be the 'last chance' for it in this series, maybe we should see just how far we can push the realism side of this.
There is another factor that came into play - due to the way that I got things done during the first year of work on this series (when I produced two autumn prints), there are no autumns left. This current summer print will be followed by a winter, and the series will then finish with a spring.
Hmmm ... that means I've got some 'time' available for this one.
Hmmm ...
OK, we'll talk more about this later, for now, here is an image of the first block to go under the knife (clickable).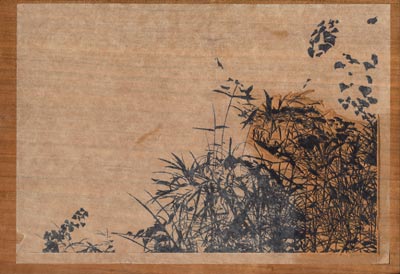 I had a good clear day of work yesterday, and the carved patch represents three hours in the morning, three hours in the afternoon, and another two hours in the evening. (Maybe I should keep track of the working time right through the project ... it might be interesting ...)

The thread continues in [Forest in Summer - 3] ...