Posted by Dave Bull at 10:24 PM, December 22, 2007
Continued from [River in Winter - 1]

Lots of carving done the past couple of days ... It always takes a bit of time to get back in the groove again; unlike 'real' carvers who do nothing but this every day, I lose a lot of my touch for this job during the weeks of printing and other work ...
I'm trying something a bit different for parts of this print. When I was involved with the production of the Aspen Grove print for Mokuhankan last year, I was quite intrigued by the set of blocks that Mike created for it. He used Photoshop to break a photographic image into tone levels, and then used a computer-controlled tool to cut the resulting patterns onto a set of woodblocks, like this:
Now, I'm not interested in making a print that looks just like a photograph, nor having it cut by a machine, but I thought this idea of tonal breakdown was something worth playing with, so I took a photograph of the stone in this design and broke it down into levels. Mike used eight levels for his photograph of that grove of trees, but I just used four for this stone. I also did the same thing for the zone of splashing foam, and then put the Photoshop output onto a set of four sheets of thin paper to see if they looked 'carveable'. Here's one of them ...
Whoo-hee! Look at all those little black dots! What do you think?
Well, those of you who checked in at the Woodblock Webcam earlier today know what my decision was!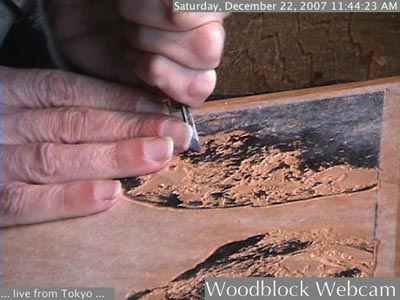 And here ... after pretty much a full day of work at it, is the block that matches that image. (The stone and the foam will of course be printed in different colors; they simply share the same piece of wood because there is enough distance between them ...)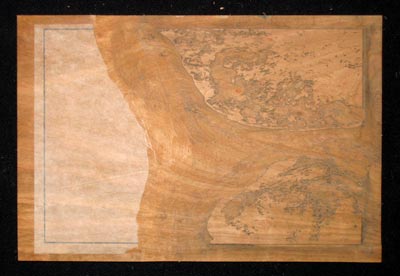 So one down, three to go! (But I do have to admit that more than once during this endless - and kind of 'mindless' - process, I've asked myself "Is spending so much time sitting at my bench cutting tiny little dots really a sensible way to use so much of my precious time on this planet?)

The thread continues in [River in Winter - 3] ...