Posted by Dave Bull at 10:40 PM, September 1, 2007
Continued from [Forest in Autumn - 12] | Starting point of the thread is [Forest in Autumn - 1]

OK, it's been a few days ... and I think she is now done. I put ten more impressions on it, all 're-dos' of previous steps ... no new blocks. Rather than put all ten steps here, I'm going to show them in groups.
First step was to put more depth and 'night' into the background, with a black 'bottom up' gradation:
This was followed by a deepening of the major tree groups, using all four blocks that cover that area. (Three of these had been used in previous steps, one - the tree base tone - had not been used yet.)
Next, I used a dark blue-black to deepen the gradation on the foreground:
This left the foreground leaves looking too bright, so I deepened them, and then also re-did the two blocks containing the dappling effect: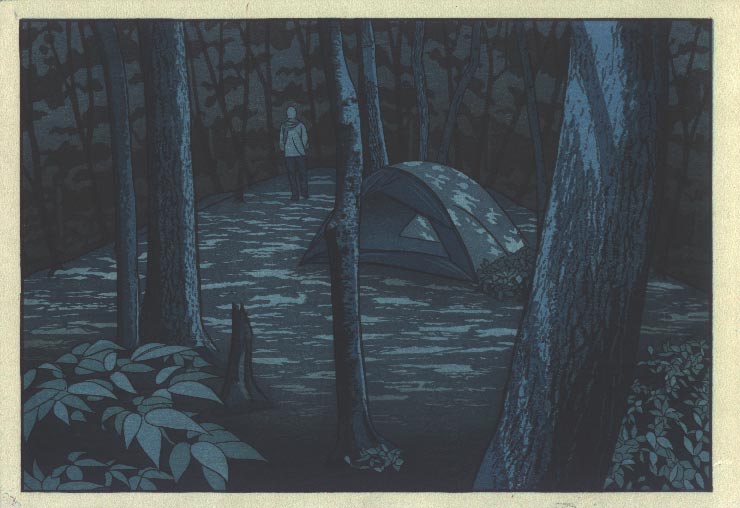 And finally, I went back to the same block that I used for the first impression a couple of weeks ago, the blank 'beta' block, and put a thin layer of blue over the whole thing: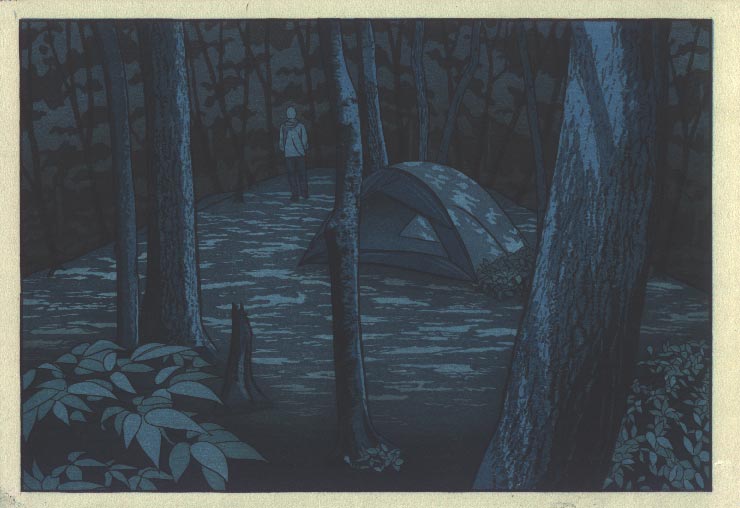 And that's it ... As I mentioned before, these scans are done on wet paper, and this is not 'exactly' what the print looks like. I'll try and get a good photograph as soon as I can, but anyway, this image should do for now! I've just updated the slideshow page with a complete set of the progress images.
After a couple of days of deskwork, I'll prepare another 112 sheets of paper for the second half ... which should go a lot more smoothly I hope!