Posted by Dave Bull at 7:41 PM, May 22, 2007
Continued from [River in Summer - 10] | Starting point of the thread is [River in Summer]

With the bulk of the carving on a number of the colour blocks now 'finished' - or approaching completion - I can start to 'play' with them a bit. Here's a block with the carving done:
Here it is with the kyogo remnants washed off: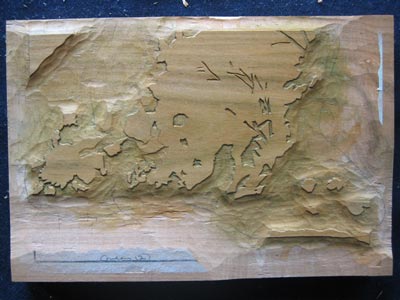 Seems basically ready for printing, and if this were a print of the ukiyo-e type, it would be. But this is a landscape image, and one with many overlays of colour. I want it to have more 'texture' than a traditional 'flat' print. So ... here's the same block - a few minutes later - after texturing:
Hmm ... not too visible. Let's zoom in: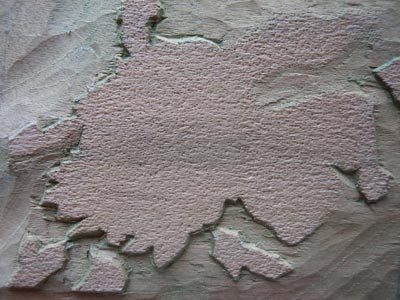 And if you click for an enlargement of this photo, you get a very close-up shot of a small area of the wood.
When printing begins, some of the impressions will be smooth and flat colour, others will be printed in a textured manner, and others will be printed from textured blocks like this. Test printing - with such an infinite range of possibilities available - is going to be 'fun'!

The thread continues in [River in Summer - 12] ...