Posted by Dave Bull at 7:58 PM, May 23, 2007
Do you remember the 'mystery' block from a few days ago?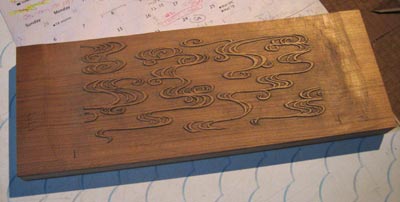 Well, today was the day to test it out. It is - of course - for printing a pattern on the book covers. There will be three such blocks carved for this project; this is the one for the 'river' episodes. Here is a sequence of photos taken during today's test run. The pattern area just 'happens' to fit the width of my best roller: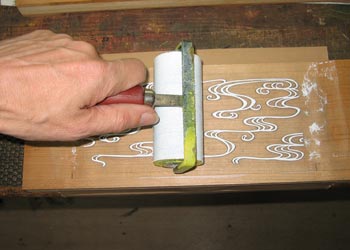 The ink is normal litho ink, in white. The paper - dry - fits into the registration mark and is rubbed the usual way:
That gives us quite a nice result, but I don't want just the 'bare' white ...
So, a little scoop of powdered 'pearl' powder (seems like it might be a mix of mica and ground shell, not quite sure ...) goes on top ...
... and then gets brushed off with a soft brush:
Final result is a nice sparkle to the pattern, giving - hopefully - a little bit of 'luxe' feeling to the books when they are bound!
The paper for this test is green, and this will be the colour used for the three stories set in the summer. Other colours will represent the other seasons, so the rotation of four colours and three patterns will result in all 12 books having a different cover ...