Posted by Dave Bull at 11:29 PM, March 21, 2014 [Permalink]
Exhibition news? What's this? Dave hasn't had a 'real' exhibition in four years ... why think about such a thing now?
Well I didn't, actually; it's that a request to display some of my prints has come in from an interesting venue, and once all the details of the proposal were clear, I answered "Yes ... Yes .... Yes!"
The proposal is from the Narita Airport Authority Event Promotion Department. It seems they have a lot of open spaces in the various terminals and buildings at the airport, and need some help in filling them up!
Here's a snapshot they sent me of an area in the main Departure Lobby of Terminal 2, a couple of months ago, with an earlier display in place: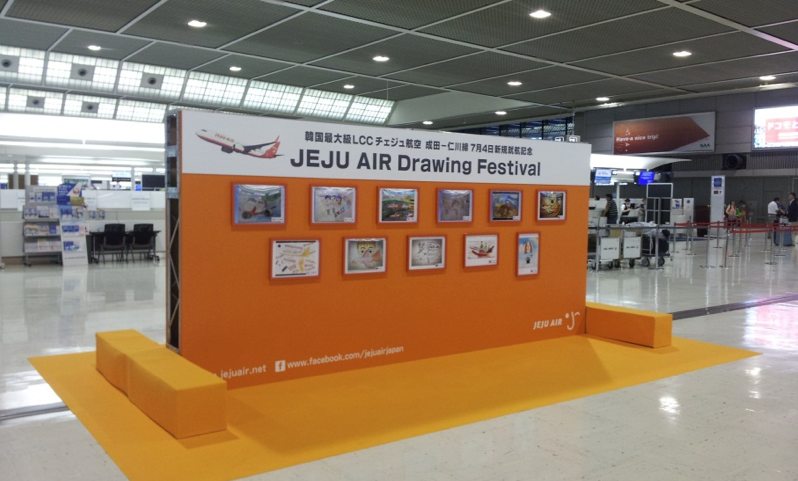 That's the space they need help filling, and their proposal is simple: some years back I created a set of 100 woodblock prints - the Hyakunin Isshu series - and they want to display them in their terminal on that same kind of panel (it'll have to be much longer) for the next three months, starting April 1st. All 100 ...
90 days, with an estimated 25,000 people per day flowing through that room ... Woot!
The event staff and myself have been batting around various ideas for the display over the past couple of days, and last night - while doing my current batch of sizing work - I had an inspiration. Dropping the sizing brush for a few minutes, I came back to my desk to make a quick note - not to forget - and then later on when the other work was done, followed up on the idea and made a sample.
Do you have a smartphone at hand? If so, then 'shoot' this QR Code ... (regular computer users can just click it ...)

What a great idea! I can prepare a nice little audio 'tour' of the exhibition, by using a scattering of these QR Codes here and there on the panels, that people can listen to at their own pace. And it gets better!

Video! This is such a hoot! Exhibitions will never be the same again!
But just where am I going to find the time to get this all together before the first of the month? That's only around ten days away, and I have such a ton of work on my desk right now I don't know where to begin. I'm carving three prints right now: the colour blocks for the next Portraits design have to be finished before Monday morning, which is when the ladies will begin printing it. I'm still chugging through the colour blocks for the next Ukiyoe Heroes design, which Numabe-san is scheduled to begin printing during the first week of April, and I'm also part-way through the next of the Arts of Japan prints, as I posted the other day.
On top of this, we are scheduled to have a Print Party this coming Sunday, this one for some guests arriving from Ohio. (This was scheduled back in the summer of 2012, during the Ukiyoe Heroes Kickstarter campaign ...)
And making things worse, I am being forced to take at least three days 'off' next week, beginning Monday, for a repeat of this episode. Last time was the right side, this time will be its mirror image, on the left! ...
Help!