Posted by Dave Bull at 10:58 PM, October 31, 2013 [Permalink]
It's October the 31st here in Tokyo, and while we were working on our printmaking today, we had some very scary visitors!
Here's a shot of my workbench this morning:

Nothing particularly scary about that, right? Wrong! Let's take a closeup view out the window:
Surveyors.
Yes, they are finally here, as expected. It's been a few months since Tamura-san - the elderly gent across the river - passed away, and the family isn't wasting any time. The land is just 'sitting there', and they clearly have plans to 'turn it into money' ...

This actually began a couple of weeks ago, with a number of visits to the Tamuras from people in cars marked with the logo of a major local real estate company. I have no idea at all what kind of project is being cooked up. But today's survey work focussed on the area right in front of our windows ... an area left alone for generations, and completely untouched for nearly a year now, since Tamura-san grew too weak to work on maintenance.
What's the worst that could happen? An apartment building, with the riverbanks necessarily being covered with concrete, for stability.
If that's where this ends up, I really have no option. It'll be time to move on ... again ... :-(
And as if to remind me of what we might be about to lose, this guy came by for a stroll while the surveyors were off for lunch: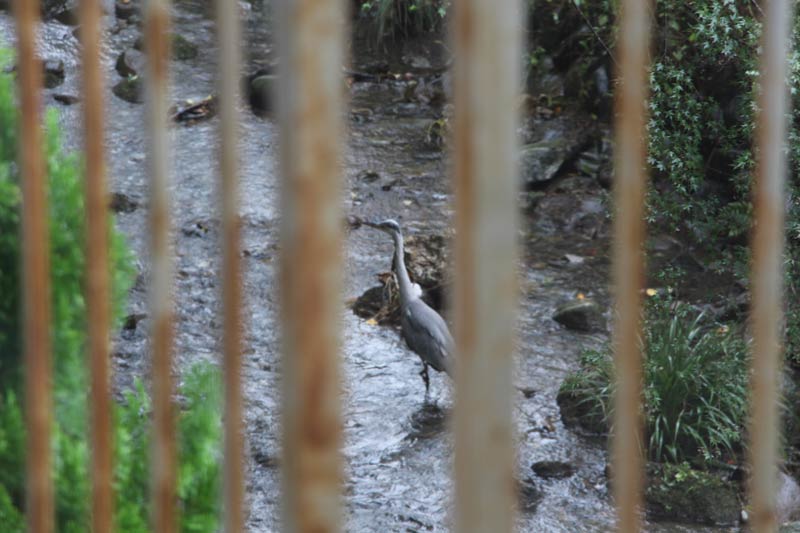 (We had to snap him through the window (and railing), because no matter how slowly and quietly we open the door to creep out and take a photograph, he hears it, and is instantly gone ...