Posted by Dave Bull at 11:12 PM, July 6, 2013 [Permalink]
Late last year I picked up a better quality camera - a digital SLR - mostly for the purpose of making videos for the YouTube channel. It has done that job very well, and a lot of the praise for those videos should really be directed at the camera makers!
I actually haven't been using it much for 'still' photography. It takes images far too massive for my normal use, and the camera itself is covered with buttons and controls that I quite honestly don't have the time to study and learn. For most daily stuff around here I'm still using a point and shoot type of camera.
But tonight I thought I would have a go at taking some pictures of the fireflies in the river behind the workshop, and for that, a point and click is useless of course. So I got out the manual for the new camera and learned how to set it to 'bulb' mode, where the shutter stays open as long as you want.
I charged the battery, set the camera on a firm tripod on the riverbank, and sat next to it to await the fireflies. We're actually pretty much at the end of their season, and I should have tried this a week ago. But some did come along, and I fired the shutter open, and then manually controlled the exposure by placing and removing the lens cap each time a firefly moved into view.
And surprise surprise, I actually got some results!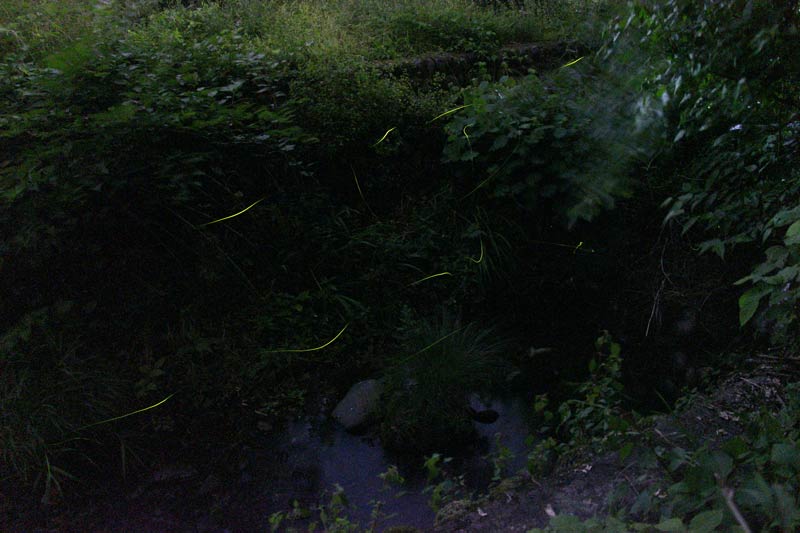 I'm regretting now that I didn't try this earlier. I had basically been thinking, "Dave, don't spend your time taking photos of these things, just enjoy them in real life ..."
But maybe there is time for both ...
[Update: Although those photos look just fine on my own monitor, I got a 'Can't see anything!' report from a blog reader, so here they are again, with the levels adjusted in Photoshop. This seems to bring out the digital noise, but at least the trails are more visible.]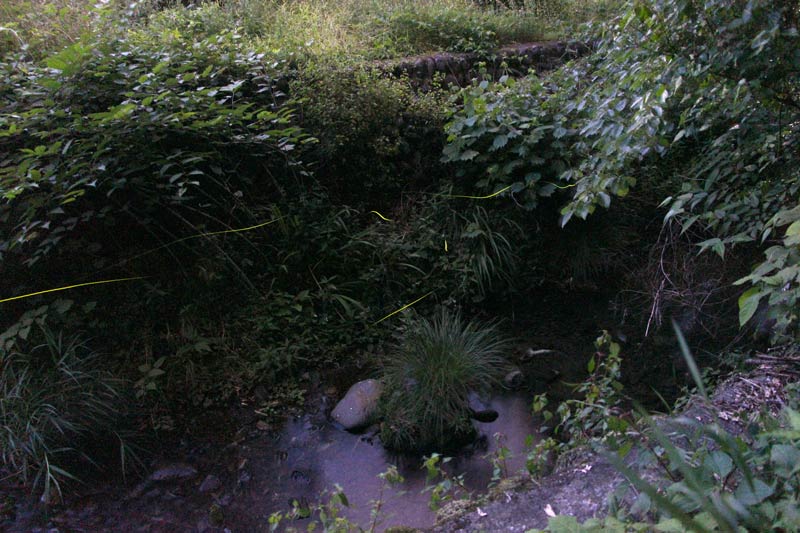 If the flies come out again tonight - not a sure thing, as we are at the very tail end of the season - I'll try again, with some different ISO settings.