Posted by Dave Bull at 6:24 PM, March 4, 2013 [Permalink]
It was in the autumn of 1990 - just about a year after I sold my first woodblock prints - that I began publishing a newsletter about my life and work. I named it Hyakunin Issho ('A Hundred People Together') because my work at the time was structured around making the Hyakunin Isshu ('A Hundred Poems from A Hundred People') print series, and I was shooting for a total of around a hundred collectors.
After the poetry series was over I of course continued issuing it, and just kept the same name, coming to think of the 'hundred people' as simply representing my collectors in general, and it has appeared without fail four times a year since then ...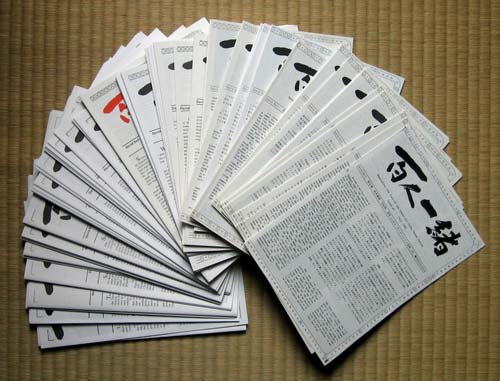 But the New York Times isn't the only publishing company wrestling with how to move their publications into the digital age, as I too have to try and figure out what to do with my newsletter ...
I have referred to Hyakunin Issho as a 'newsletter' but that's not strictly accurate. In Japanese we refer to such a publication as a 季刊誌 ('seasonal magazine') and - at least in the early years - that perhaps better describes what I was trying to do with it. Yes, it carried news about my affairs - exhibitions, new series, etc. - but it always also had plenty of 'background' information on matters related to my work, including visits to craftsmen who were supplying my tools, and other such stories.
Back when the only printing option was offset, publishing each edition was a very expensive - and very time consuming - proposition, involving much typing and re-typing, and layout with rulers wax sticks and red rubylith film.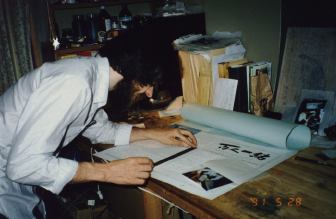 Moving to a computer for layout saved a huge amount of time, but offset printing in such small quantities (usually around 500 copies) was still expensive, not to mention the huge costs of postage. A few years back I switched to digital (on demand) printing, which meant much less waste on unneeded copies to get the print run up, and this helped a great deal with the expenses (which come to a total of about 7,250,000 yen over the life of the publication (around $90,000)).
But at this point, it's not the money that is causing me concern or confusion; I long ago decided that the newsletter was an 'investment' worth the cost. What I'm puzzling over now - myself and the New York Times both - is what it means to run such a publication in the wired age.
Does it still make any sense to put ink on sheets of paper, stuff them into envelopes, and send them off all around the world ...?
Does anybody really care about news that arrives every three months - and not as part of their Facebook perusal over morning coffee?
I wrote many years back about visiting (for one example) the paper-maker. But the current list of people receiving my newsletter has almost no overlap with the subscribers back in that day, so should I do another story about him?
All the content of the newsletter goes online on my website [English | Japanese] at the same time that it is published on paper. Isn't this perhaps enough?
This very blog that you are reading - hasn't it replaced the newsletter?
What I'm having the most trouble with is separating my own personal preferences (I'm an old dude who likes to read stuff on paper) and modern practical realities (it's all 'instant' and on a screen). I do occasionally get emails of this sort: "As usual, your newsletter goes great with a cup a java and some sun streaming in a window," but that's simply to be expected from a particular reader of an age and temperament similar to my own.
So I would very much appreciate some feedback on this please - particularly from any long-time readers who might be seeing this post. Let me know your own thoughts on what the newsletter means for you, and how you think it should be handled from here on in ...