Posted by Dave Bull at 2:46 AM, August 2, 2011 [Permalink]
After more delays and interruptions than I can believe have happened over the past couple of weeks, printing of Mystique #15 is finally under way!
And under way with a difference ... Look at this!
Yes ... I'm printing the key block in oil-based ink. (I had the webcam set to 'record' during a half-hour or so of the session, and the video can be seen on the Ustream website here. I kept up a little bit of a running commentary as I worked ... explaining what was going on.)
Using inks rather than water-based pigment for the keyblock was very common back in the Meiji era. At that time, publishers were experimenting with all manner of printing methods, searching for ways to fit the new press technologies into their work flows. A great many prints (most of the kuchi-e for example) were done this way - with metal key blocks and normal cherry wood colour blocks.
The print that I am reproducing this time was originally done that way, so this is a good opportunity for me to learn how to do it.
Something else to mention before I show you the result of the first impression is that a great many parts of the design visible here will be 'covered up' with subsequent printings. The hair mass will have two more overprintings, with gradations around the side of her face, and the main thick lines of her kimono will also be overprinted. So what I'm aiming for at this point is simply a clean (and light) impression on the face and delicate hair tracery. Even her pupils will be put in later with another block.
Anyway, here's the first impression (the border outlines were done before I started, as usual):
Let's have a closer look at the hair (clickable):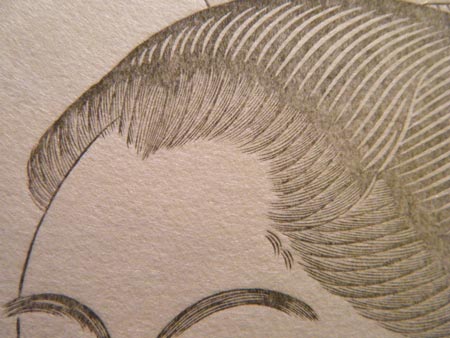 The next few impressions should be: the pupils, the hair undercoat, the hair overcoat. But unfortunately, the paper was a bit too damp when I began work this morning, and I wasn't sure of being able to control it as well as I would like. So I switched to one of the colour blocks, something much less 'critical', and easier to handle:
More tomorrow ...