Posted by Dave Bull at 2:35 AM, July 27, 2011 [Permalink]
Mystique print #15 is still at the test printing stage; and has been 'stalled' there for a few days now. Part of the delay has been that this one is not trivial in any way - it's far and away the most difficult print in this series (and will look it, too!) The boxwood block allowed a very fine level of detail to be carved, but such hard blocks are extremely difficult to print, as they don't 'drink' the moisture well. I'll have a little bit of a surprise to offer about that, once I've got it up and running ...
Another reason for the delay has been an interruption for work on the summer series of Senshafuda prints. This set is turning out to need a lot more work at the 'editing' stage than the initial group I published a few months back, and I've spent more time in Photoshop than I care to think about! But I worked out the final colour separations last night, passed them over to carver Sato-san this morning, and he is working full steam ahead.
And of course, a few mornings each week - time that should normally be my own prime working hours - have been spent coaching Tsushima-san the printer, who is coming along very well.
But it's not just print production issues that have been on the table this week. Me and my 'buddies' - the people who run such places as Toyota and Sony - have been watching the financial pages with a growing sense of impending doom.
It's the yen/dollar rate of course. Those of us who make a living exporting our products from Japan (more than 70% of my prints are going overseas these days) can do no more than sit and watch as the exchange rate moves into territory that would have seemed inconceivable just a few years ago.
Here's a chart of the change in the rate in the past year (since just after the beginning of the Mystique series) [clickable]:
The number in the lower right corner says it all - down more than 17% over that time. That, of course, is coming directly off my income. And there is no corresponding gain for me on the import side - I import nothing!
And when we look at the longer term, it's even worse. Here's the same chart extended back further in time, to a point nearly ten years ago, when I was making the Surimono Albums. The red box here is the same area as the first chart ...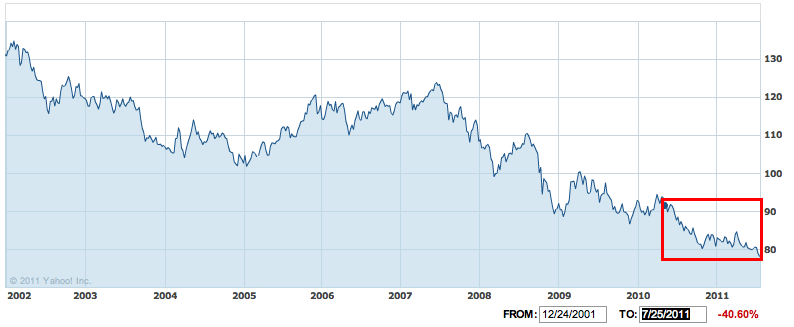 More than 40%! (And remember, a 40% change in the exchange rate doesn't mean that my prints are 40% more expensive, it means that they would have to be priced 66% higher to bring me the same amount!)
Now Toyota has a sort of 'solution' for this - open factories in the US, and build the product right there in the market where it will be sold. Hah! Do you think I should put a 'Help Wanted' sign up ... in North Carolina or someplace like that?
Anyway, the point of the story ... I sure hope my US friends get their budget thing together, because if the US dollar really does go off a cliff, we're all going to be in very deep water, I think!