Posted by Dave Bull at 2:11 AM, June 2, 2011 [Permalink]
And not just 'begins' ... not too far from being 'done'! :-)
Things have been kind of busy here this week, what with the initial shipments of the Senshafuda prints going out the door, and I've been delinquent. Not with the work, but with keeping you up-to-date on it!
Anyway, that's easily rectified, with some snapshots from my bench this afternoon/evening.
When I cut/printed the previous print - Mystique #13 - I left space on the blocks for this one, so on the key block you can see #13 on the left (covered in sumi), and freshly carved #14 on the right:

#14 is a simple image (again!) made up of some ideas from Meiji-era pattern books that I have 'cobbled together', and inserted into a framework of a decorative tsuba (sword fitting) shape:
The block was nice and crispy, and was a pleasure to carve. Here's a closeup of the finished keyblock, before washing. Don't miss the enlargement!


Unlike the keyblock, which was paired with #13, the colour blocks for this set are mostly pasted up together, in 'heads 'n tails' fashion. Here's the whole set - keyblock again, after proofing and pulling colour separations:
Patterns ... not much to see here yet: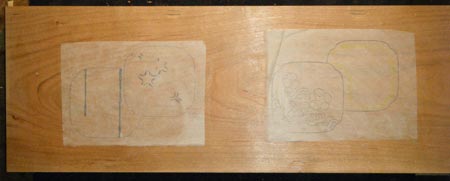 More patterns ...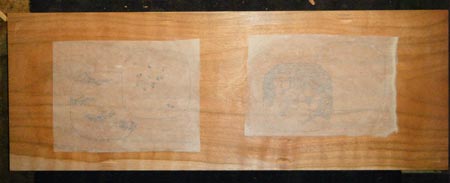 A couple of zones were very small, so I doubled them up on one face (also containing part of #13):
The background for this one is going to be fun. No quite sure how vividly (or how delicately) I'll be printing it ...
Here's the last one, already under way:
And we have a nice closeup on this one too!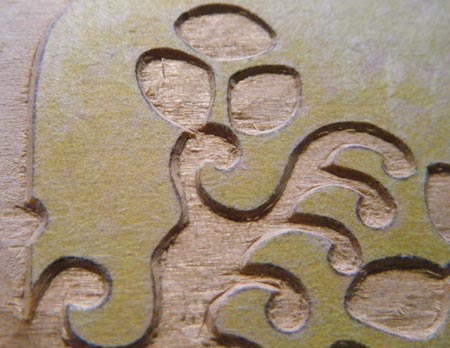 Not quite sure when I'll be done. It's not much more than a couple of days work, but I have to head off downtown sometime this weekend, for a meeting with Numabe-san the printer, to talk about some Yoshida prints, and get some photographs ...