Posted by Dave Bull at 8:37 AM, September 22, 2010 [Permalink]
The insect keyblock is now done:
Oops! Upside down! Let's turn it over ...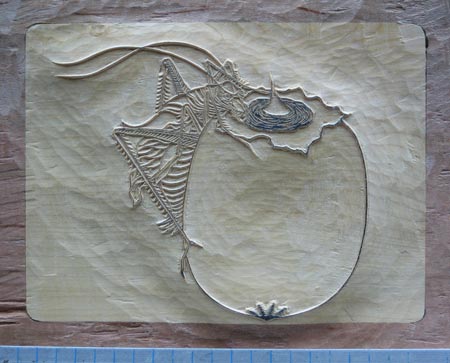 That's exactly the same image just rotated 180 degrees ... Funny how our brains interpret them differently - always assuming that the modelling of shadows is determined by light falling from 'above' ... Wonder why? :-) (And I wonder what infants 'see', before their brains have learned to handle this kind of processing?)
And let's have a closeup (millimeters on the scale):
(That last one clicks up to a considerably larger enlargement than the others ...)
I've now moved on to the colour blocks, but this afternoon there will be more 'disturbance'; another reporter/photographer combination is coming over. They are from the magazine 'Edogaku', which is difficult to translate - it could have a nuance of 'Interesting Edo', or 'Having a Good Time in Edo', or things along that line. They have a few sample pages of a recent issue online, and at least this one looks a bit more promising than the Playboy episode!