Posted by Dave Bull at 8:28 AM, July 27, 2010 [Permalink]
This thread about paper sizing is continued from here, and started here.

I went back up to the 'home center' this morning, to make a final decision on what to use for the heating tray. One day last week I had hopped on the bike and headed for a couple of local sheet metal shops - going by the listings in the Yellow Pages - but no luck ... they were all gone. And it's just as well really, because even if I had found one that could do the job, I know what they would charge - an arm and a leg. I remember when I had a similar tray made up for me around 40 years ago, for steaming and bending guitar parts, and that was around $20 I think, but there is no way I would ever get something for that kind of price these days!
I stopped by the local indigo dyeing workshop, to ask the owner Murata-san if he had any recommendations on somebody who could do the job, but he didn't, and he thought it would probably be 'around $400 ...'.
So it was off to the home center, to either get some supplies for making one, or to find something I could convert. And I found it straight away!
Of course, a large-size paint can! This one is not paint, it's thinner, which will clean out of the can much more easily than paint would, and it is very cheap - only 2,400 yen for the 14 liter can. I roped it onto the back of my bike, brought it home, and transferred all the thinner to an old 'poly tank' that has been gathering dust here. So I now have a lifetime supply of paint thinner ... not that I ever paint anything, but it should be useful for cleaning rollers and stuff.
Anyway, to work ... First step (after washing it out thoroughly) was to split it in two:
The metal of the can is way too thin to support itself now that the can is cut apart, so it's necessary to make a kind of frame for it. After notching out the corners down about 5cm, I cut some thin slots in four pieces of wood. Each wooden piece slots over one of the sides, covering up the raw edge, and the metal is hammered and rolled over a couple of times.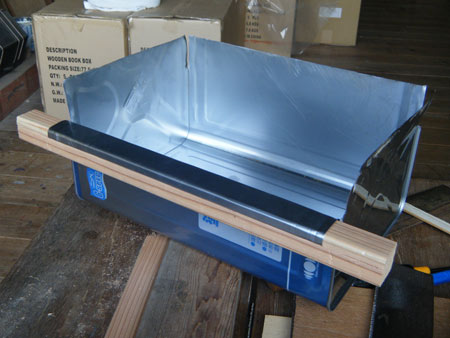 I repeated this for each side, and then securely screwed them all into place from the inside.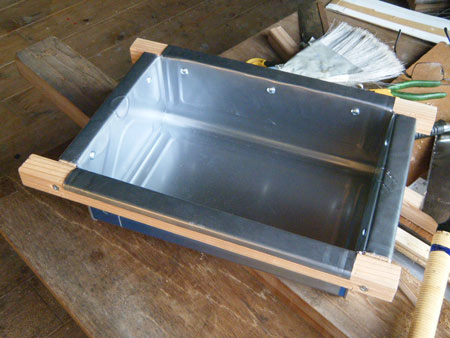 After cleaning up the corners a bit, it starts to look like a sizing tray! It's very 'tight', completely waterproof of course, and sits perfectly flat on the table.
I fitted a stainless steel rod across the top, to act as a 'wipe-off' bar:
And here she is, posed with my new dosabake (sizing brush), ready for action!

This thread about sizing continues here.