Posted by Dave Bull at 3:47 AM, July 22, 2010
Although it is now extremely hot here - even down by the river - the work has moved forward, and the key block for the Hasui design is now done:
Just before completion - with the small boats waiting: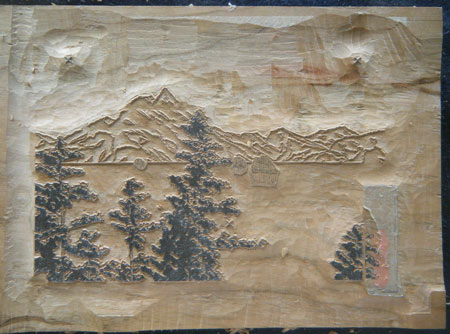 And after washing (under the strong light bulb at night, sorry):
The empty zone over at the right is where the cartouche lettering will be carved later, after I get the master copy of the calligraphy back from collector Tauchi-san, who has taken on the chore of doing them for the whole series.
But I can get busy on the colour blocks while waiting for that to arrive. I think we are looking at 12 faces in all (including the key), but I'm not sure how many impressions it will be; there are going to be a number of gradations and overprintings, obviously. Here are the separations, ready to be pasted down (click to enlarge):
And here is one of the colour blocks, waiting for carving to start:
If you have been 'following along', you should have questions here!