Posted by Dave Bull at 8:22 AM, April 13, 2010
Time for an (overdue) update on what's going on around here!
Spring has sprung here at the Seseragi Studio ... beautiful warm sunny spring days one after the other!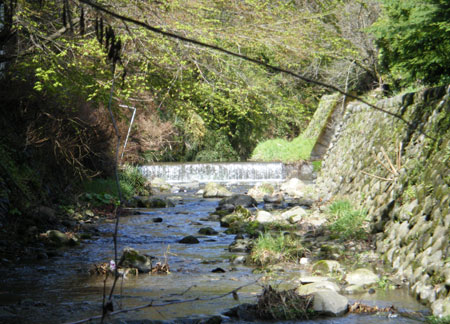 The exhibition closed a week ago. Collector Doi-san came over just before closing time, and the two of us got everything off the walls and into boxes ready for the Rent-a-Truck guy to take away, managing to finish just a few minutes in front of the 5:30 deadline. (The next exhibitor was waiting outside to come in and begin his setup, just as I had been waiting a week before ...)
How was the show? Mixed. (Again.)
Many of the Tokyo-based collectors came by for a visit, and I spent lots of time chatting with them and getting reacquainted. (There's a 'story' about that here.)
Although I had sent out hundreds of media packs, there had been no response at all, and without any TV/radio/newpaper/magazine coverage of the show, 'new' visitors were thin on the ground. As this gallery opens out onto the street, I had been very interested to see what kind of 'walk in' business there would be, but there was actually very little. Passers-by ... passed by! (There's a 'story' about that here!)
There were orders though, mostly from current collectors telling me 'OK, I'm in!', as well as a few previous collectors 'coming back for more'. Current collector count is now 93, within striking distance of the 'making a living' level. And as there is a small but steady stream of back issues of other print sets still going out, I'll be OK.
Cash is insanely tight just now though. What with paying for the gallery, the trucking, printing, promotion, etc., not to mention the huge bill for the cases for the Mystique series (that alone is over $5,000 ...), there isn't much breathing room. But I'll chew away at the unpaid bills bit by bit over the next few months, and by somewhere around mid-summer I should be back 'even' again ...
**
Plenty of emails and phone calls recently along the lines of "You said 'early April' for the start of this series, so where is the first print?"
Well, it's still on the blocks! As you saw in the previous post here on the RoundTable, I began the printing just as soon as I got cleaned up after the exhibition, and it has been moving forward every day, bit by bit.
At the time I produced each of the Solitudes prints, I uploaded a step-by-step colour progression for them, but the long narrow paper size for this series means that the sheets don't fit on my scanner, so it's not so easy to do that this time. There is also the question of whether or not I should show them openly; I am making them 'two-up', so the 'surprise' of the next print would be spoiled if I do that ...
Anyway, this week is far too busy to worry about that; priority right now is getting this pair finished. The packaging material is coming together too - the mounting boards are all trimmed to the new size, the acrylic sheets should be here later this afternoon, and the story just came back from translation by Sadako, so I'll begin to print out the wrapping sheets later tonight or tomorrow. And I put in an order the other day for the cardboard boxes for this first shipment; I got two sizes, one with just a centimetre or so of clearance, for shipping within Japan, and one with lots more clearance - which I will fill with bubble wrap - for shipping overseas. These are scheduled to arrive tomorrow.
I chatted with Iwahara-san from the woodwork shop yesterday, and he said that in a couple of days they'll be sending the slips of paulownia for fixing the cases. He wants to make sure the wood stock is exposed to the air for a while after being planed to the proper thickness, so that they can cull any pieces that warp strongly. If we don't do that, the drawer itself may warp after they are glued in place, causing still more problems ...
So I'm not sure what to offer you for a ship date. This printing should be done by the end of the week, and after drying/signing/sealing/etc. they should be ready for packing soon after. The main question is going to be how long it takes me to do the glue job on each of the boxes ...
In any case, things are indeed rolling along ... so please be a bit more patient!
**
And I would be amiss if I didn't give an update on the final print of the Solitudes series, the Seacoast in Spring. We've sent out about half of them by now, but Ichikawa-san is getting through the sewing of the books only very slowly. The main problem is that she has to take her father-in-law back and forth to the hospital pretty much every day, and that is eating a lot of her productive time.
But they are getting done, and they are flying away, bit by bit. If you are still waiting for yours, please just hold on a bit longer ...