Posted by Dave Bull at 2:01 PM, March 4, 2010
These periods - the overlaps between the end of one print series and the beginning of another one - are 'the best of times, and the worst of times' for me. As much as I would like to kick back and relax after three years of work on the Solitudes print series, the deadline for shipping the first Mystiques print is just over three weeks away, and there's no sitting still!
When I came back into my 'office' this afternoon after a nice long bath down at the Post Office, I stood there for a minute looking around, and thought it might be fun to share it with you ... Here are three snapshots (click for enlargements), each one with an accompanying list of things you can hunt for, if you are so inclined!
wood swatches with sample wood stain colours for the Mystique box
'To Do' list
first wood block for the Mystique series, with hanshita pasted down
trusty Canon printer, loaded with paper, ready for the first invoicing for the Mystique series (probably later tonight)
small white box with Your First Print CDs, now getting empty, and waiting to be refilled from the stockroom upstairs
another 'To Do' list
Zoom recorder, waiting for the next 'A Story A Week' recording session, probably tomorrow evening, if I get the story done by then
one volume of the large 16-volume Kodansha encyclopedia, waiting to go downstairs to the scanner, for preparation of the hanshita for the second Mystique design
stack of Edo and Meiji e-hon, being mined for image ideas (these aren't mine, but belong to young printer Ueda-san)
bill clip (getting fatter by the day)
Now if we turn around ...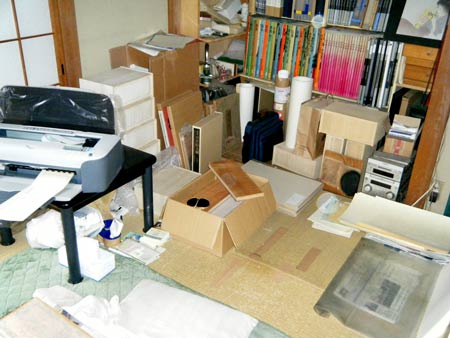 pile-of-junk Epson printer, spitting out another one of the hanshita, ready for pasting down
box of woodblocks for the Mystique series, just arrived from Matsumura-san the other day, and eagerly opened right in the entranceway, because he had promised me 'special hand planing by an expert!' ... [comment censored (save it for another post later, Dave ...)]
stack of moistened newsprint, containing the small slips of paper for the cover labels to be glued onto the 'Seacoast in Spring' books
batch of paulownia boxes for Solitudes books (five of them, from the first carton to be cracked open), waiting for 'touch up' sanding and general 'fixing' - as much as is possible, anyway
stack of sample alternate paulownia boxes for the Solitudes books
stack of 'art boards', within which the Seacoast in Spring prints have now finished drying, and are waiting to be checked, signed, sealed, trimmed, and FIRED OUT OF HERE (sorry 'bout that ...)
stack of pale yellow washi sheets for the covers of the Seacoast in Spring books, just brought upstairs after having been printed with the silver pattern
the first few 'returns' from the 500+ pile of exhibition pamphlets sent out the other day (whenever there are than many pieces being mailed, some of the address are bound to have 'expired')
tissue box, and associated garbage bag (earlier this week, the 'hinoki' pollen hit this area ...)
embossing press, ready for action on the Seacoast in Spring prints
And turning a bit further ...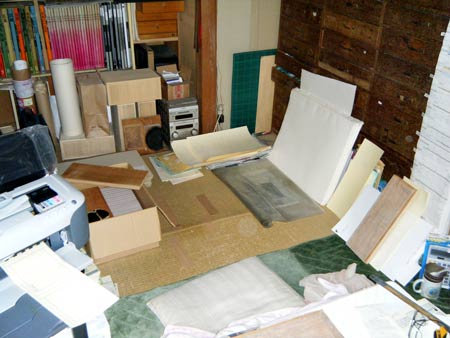 stack of about 100 sheets of Iwano's hosho paper (not for me, but being sent to the [Baren Mall])
severe ripples in stack of 100 sheets of paper, due to completely incompetent sizing from Misawa-san, who is obviously coming to 'retirement time', whether by his own choice, or that of the market ...
sheet of blank 'hanshita' paper - laminate of extremely thin gampi and a thicker base sheet - ready for feeding into Mr. Epson
clear plastic folder containing completed tax returns, ready to be run down to the local tax office and turned in
calculator; hopefully soon to be put back in the drawer and LEFT ALONE FOR A WHILE (sorry 'bout that ...)
remnants of breakfast: coffee cup, and small cup that held some granola ... (I always know exactly where to find these, when I start hunting for them each morning ...)
second wood block for the Mystique series, with hanshita pasted down
But that's enough for now ... I think I had better choose a waiting job, and get to it! :-)