Posted by Dave Bull at 3:30 PM, April 10, 2009
Continued from [River in Spring - 2] | Starting point of the thread is [River in Spring - 1]

Despite plenty of interruptions over the past week, the key block is now done. As I mentioned before, it's not a 'key block' in the traditional sense of having outlines that will be 'filled in' with colour later, but it will still be the one to which the others will be keyed once printing begins.
Here's a quick scan, just after carving was done, but before I washed it: (clickable)
And here it is after washing: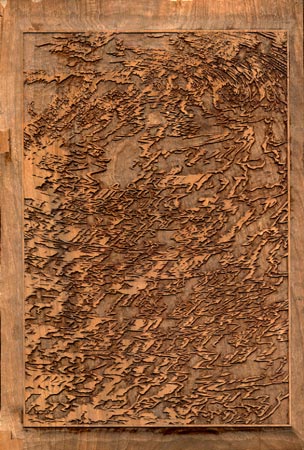 So, I think that by having a close look at this, you should be able to get an idea of the 'concept' behind this image, no?

The thread continues in [River in Spring - 4] ...