Posted by Dave Bull at 11:05 PM, July 24, 2007
Continued from [Forest in Autumn - 1]

Unlike the previous print, which was structured around an actual view of the river, this one is not a 'real' scene, but one 'assembled' from pieces ... the tent, some trees, and some bushes. These are all put together in a series of Photoshop layers, and then, when it seems to be satisfactory, I trace the image using my Wacom pen tablet, working at a high level of magnification: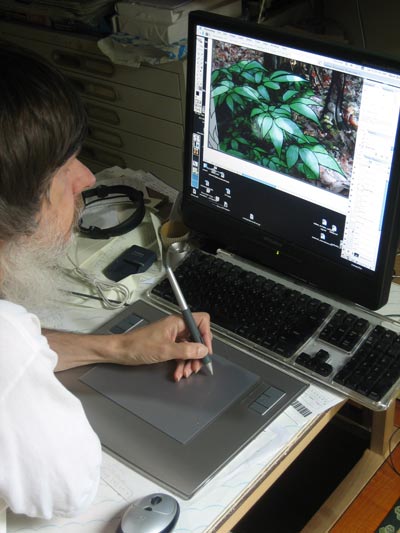 When all parts of the image are done, blocking out the photo layers gives me the line drawing ready to print onto thin paper for pasting onto the block. We saw this in the previous post, but here it is again:
Then, finally, down to the carving bench in the workshop! I've actually had a very productive couple of days carving work on this block, and it's almost done! Just those last two textured tree trunks to go (click to enlarge) ...

The thread continues in [Forest in Autumn - 3] ...