Posted by Dave Bull at 1:05 PM, June 2, 2007
In a private email with a friend, discussing the progress of my current print - the River in Summer, from the 'My Solitudes' series - he mentioned that he was trying to think of different ways that I could move forward with the colouring of the print. That gave me an idea ... why not make it easy for anybody to make their own version!
So here's what we're going to do ... I have created a full-size down-loadable version of the hanshita (the line drawing) that I used to guide the carving of the key block of this print.)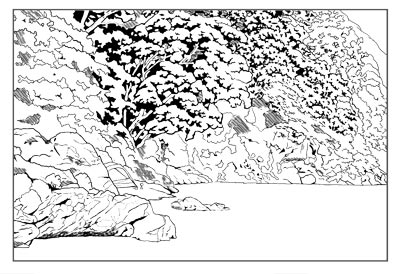 Feel free to download it, then open it up in any image editing software such as Illustrator or Photoshop. It is in png form, and is transparent, so it is very easy to add colours to different areas. Colour it in to make an attractive 'print', and then either post it online somewhere we can see it, or send me a copy and I'll post it here.
Instructions:

download it here
open it in your editing software
you may then have to change the image 'mode' to RGB, before you can add colour ...
create multiple 'layers' (positioned beneath the transparent line drawing) to make it easy to brush colour across the design
Go for it!
(There is a long thread on this RoundTable showing the progress of the print - from design through to finished version. The starting point of the thread is [River in Summer].)