Posted by Dave Bull at 1:31 PM, May 8, 2007
Continued from [River in Summer - 2] | Starting point of the thread is [River in Summer]

Chewing away at it ...
If I had a couple of clear days, I could finish it off, but I've got to 'down tools' now, and switch over to another waiting job. The wistaria is in bloom, the forest is full of fresh leaves sprouting out everywhere, and I've got to get the 'Forest in Spring' story 'researched', so that when spring '08 rolls around I'll be ready.
The backpack is packed and ready in the entranceway, and as soon as the muffins come out of the oven, I'll be off for 24 hours up there ... Hee-hee ... time to go to work! :-)
Also, nothing to do with the current project, but just for fun ... here's a quick shot of my house this morning: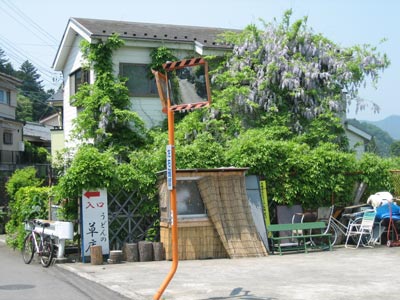 The junk in the foreground belongs to my neighbour the man who runs the noodle shop across the street. This is his parking lot, and general 'storeroom'.

The thread continues in [River in Summer - 4] ...