Canadian artist wins top prize of 1,000,000 yen in Essay Contest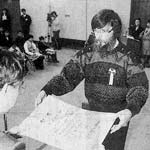 David Bull, a citizen of Canada and Britain, received 1,000,000 yen, the top award, for his winning essay in the fourth annual "Save the Earth" contest on Saturday at the Yomiuri Shimbun headquarters in Tokyo.
In his essay, "The Neighbourhood We All Share," Bull stressed the importance of broadening the public's environmental awareness from the local neighbourhood level to a global scale. The 43-year-old woodblock artist lives in Hamura Tokyo.
Bull's essay won the Environment Agency Director General's Prize. The contest was sponsored by The Yomiuri Shimbun.