Woodblock Shimbun - Introduction
The media here in Japan have been very good to me over the years. Especially during the time that I was working on the Hyakunin Isshu project, newspapers, magazines, radio and television almost never failed to respond to my requests to help me publicize my exhibitions.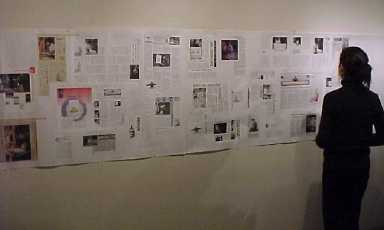 I'm certainly not 'famous' here, and can walk down the street without attracting attention, but during the few days immediately following a television appearance, do find that I get recognized in the train sometimes. Generally though, people are considerate of one's privacy, and unlike the really famous foreigners here (sumo wrestlers, etc.) I live generally undisturbed.
Reading/viewing some of this material is an excellent way to get familiar with my work, so I have scanned/ripped/typed many of the items, and included them here in my 'Woodblock Shimbun'. You will find a 'Table of Contents' over on the Index Page. Please take a look at some of the material; I think you might enjoy it!
Thank you!
---