Posted by Dave Bull at 8:09 PM, November 6, 2013 [Permalink]
A week or so ago, I posted with photos of some construction we had been doing recently, and the project in question is now in use.
Here's our handyman Tashiro-san (and his wife, who hangs around making sure he doesn't get in trouble), finishing up the sanding and final fitting of the shelf unit he built for us.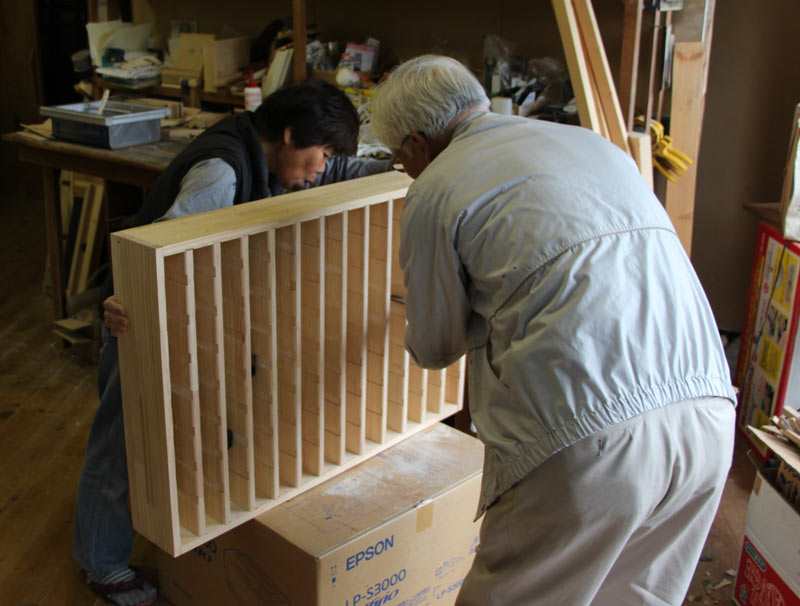 Around a week ago, the printer ladies went through our brush inventory and sorted them all into groups based on colour and size. Based on their organization, Tashiro-san then carefully adjusted his shelves so that each brush slides smoothly into its appointed slot:

The brushes mostly fall into three standard sizes, but they vary a little bit from one to another, and it took him a bit of time to fit each one properly.
Once this was done, he installed the unit into the place he had previously prepared in our entranceway. Here is what it looks like when approaching the house: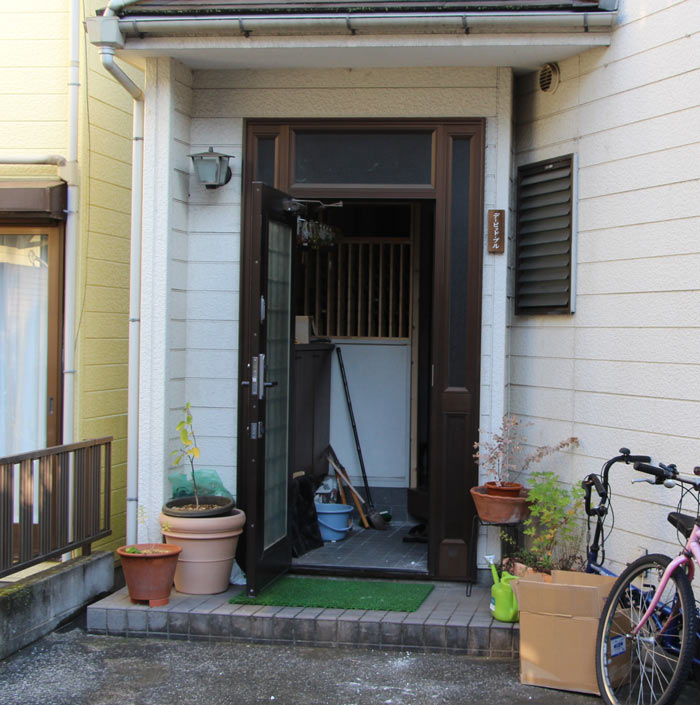 ... and coming in the front door:

Here's the view from the other side - the way that the staff will approach it when selecting a brush. It's arranged with the colours in horizontal rows - the top four rows are for red/yellow/blue/green. The next row is black/grey, and the final two rows are miscellaneous. The left/right arrangement puts the brushes into three groups based on their (standardized) widths - S/M/L ...

At present, we have just used small paper labels to number each one - so that everybody will know where it 'lives - but we plan to number them with a more permanent system once we've had a chance to see how this is working in practice.

Having this proper home for the brushes is already improving our workflow, and hopefully it will be healthy for the brushes too - keeping them in a steady airflow and not letting them get damp or mouldy.
The next construction project for Tashiro-san is to make a pile of storage cases for the Chibi Heroes series, and he (and a friend of his) are already well along with that job. We'll be showing some results (and opening an order form) soon!