Posted by Dave Bull at 8:51 PM, September 15, 2012 [Permalink]
And ... the colour blocks are all done! With no particularly complex patterns on this design, these blocks are mostly simple 'flat' areas, and it was all done in the course of a (fairly long) day on Thursday.
Here they are, in the same orientation we saw in the previous post:
The flip sides: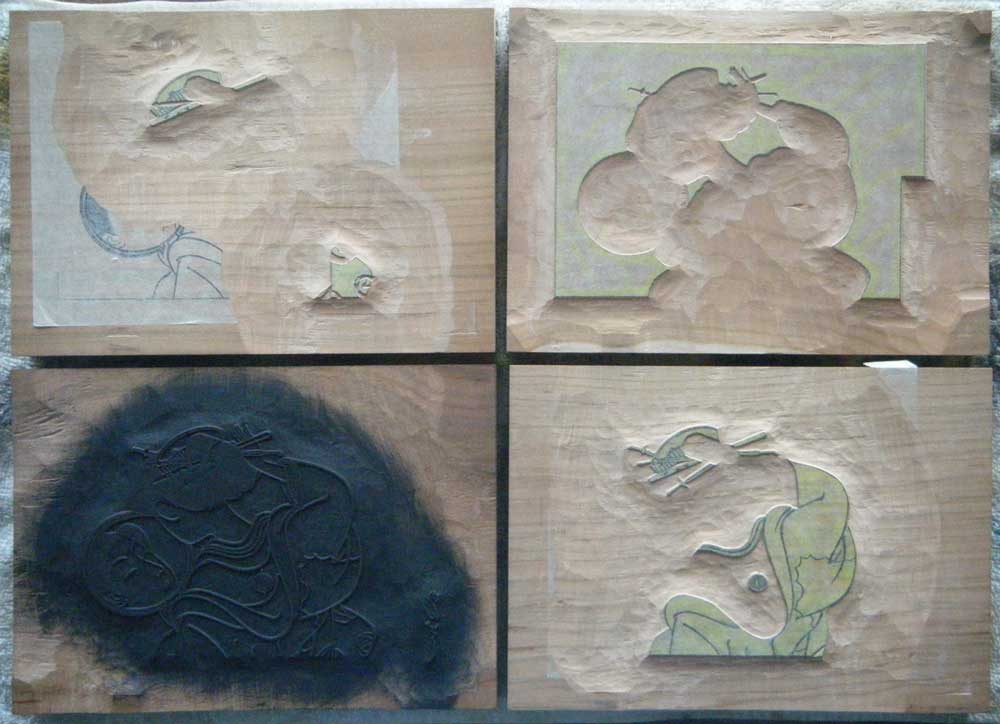 When I begin test proofing in a couple of days, I'm going to be fairly 'free' with the colouring. The sample image I have been working from is a Taisho era reproduction of the original Harunobu book (thank you Jacques!), and some of the colouring is a bit 'hard' (to my taste). But the colouring of the original version isn't all that attractive either, so I'm going to give myself a free hand to create something pleasant, and which is hopefully reminiscent of the original era.
If you study those colour blocks in any detail, you will see that I have cut them to allow quite a bit of colour buildup - some areas of her kimono are on three overlapping blocks. I love doing the colouring this way, as it results in colour tones that are much richer than those created with a single impression, even if that be mixed to produce exactly the same tint in the end result.