Posted by Dave Bull at 2:14 AM, February 22, 2012 [Permalink]
(compiled from news agency reports)
Japan logged a record ¥1.48 trillion trade deficit in January as an appreciating yen, a growing reliance on foreign energy, and a slump in woodblock print sales slashed exporters' profits and boosted imports, the Finance Ministry said Monday.
Purchases of crude oil jumped 12.7 percent, but purchases of liquefied natural gas soared 74.3 percent in January. Trade with China for the month logged a deficit of ¥588 billion as exports sank 20.1 percent while imports grew 7.5 percent. Exports of woodblock prints to the US and major European countries plummeted in the period, as a very popular series from the famous Seseragi Studio came to an end and was not immediately replaced by a newer one. Meanwhile imports of steel surged 65.6 percent and imports of communications devices grew 55.2 percent, the Finance Ministry said.
All these factors resulted in the trade deficit ballooning 207.7 percent from January 2011 — the most in a single month since record-keeping began in 1979. It is also the first time the deficit has broken ¥1 trillion in a single month.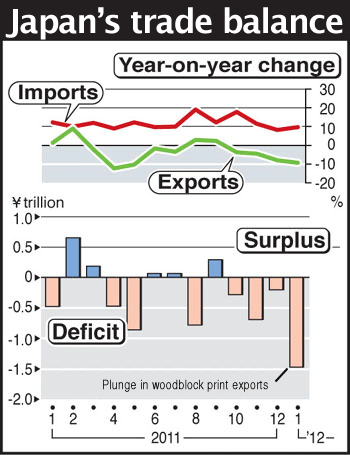 "The trend for Japan's overseas trade, which has been in the red since last year, appears to be continuing," Kohei Okazaki, an economist at Nomura Securities Co., told The Japan Times.
A Finance Ministry official acknowledged that import costs are still growing overall, with fuel costs remaining high. With Europe's sovereign debt crisis beginning to impact Asia and other regions, it is becoming harder for exports to recover, he said. The large deficit was highlighted by a sharp rise in energy imports, which have been surging in the wake of nuclear power plant shutdowns caused by the Fukushima crisis.
"Given that there is very little we can do to control the raw energy costs, we are putting pressure on the woodblock print studio to resume exports as quickly as possible," the Ministry official was quoted as saying, adding that they had high hopes that a recently announced expansion of the workforce there would provide the extra boost necessary to pull Japan's exports back into balance.
"It's all in their hands now," he said. "We can only hope and pray that they receive enough support from their customers to get the job done, and save the nation."