Posted by Dave Bull at 2:28 AM, December 11, 2011 [Permalink]
No better way to show today's studio 'update' than with a pair of photos...
Here's the 'before' - taken a couple of days ago. Nice autumn colours we have right now!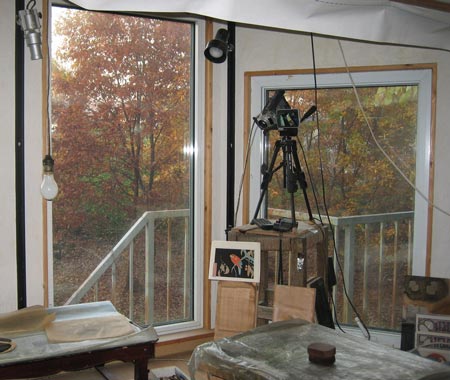 And the 'after' - taken this morning: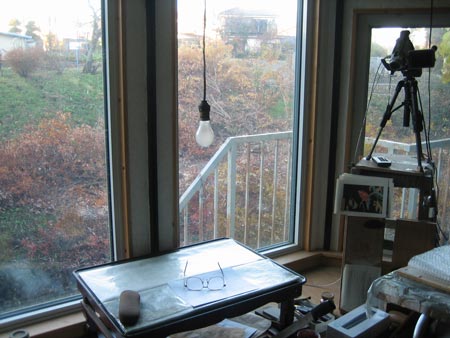 Let's step outside and take a closer look ...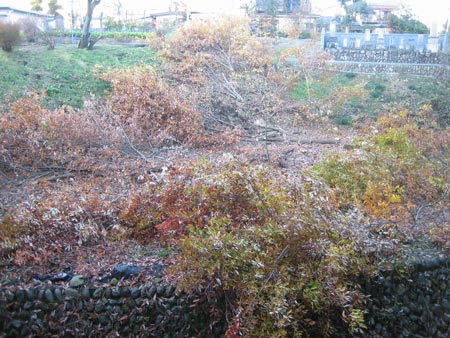 Yes, my neighbour Tamura-san across our river, has decided to take down all the trees on the lower portion of his property. He can't actually see them from his home, but wants to get them down before they grow tall enough to be any possible threat to the buildings across the river (namely me).
I've talked with him about this before, telling him that I'm not worried about it, but he's taking no chances. Down they come.
We went through this around seven or eight years ago with this same grove, so that's how old these trees are (were!). It's also interesting to note that he calls them 'weeds', not trees. From his point of view, they are just a nuisance that keeps endlessly coming back ...
* * *
But all is not dreary news today. Now that this workshop is warmer, I am spending much more time down here, instead of 'escaping' quickly upstairs as soon as any given session of work is done. So it is time to 'upgrade' the music system - I took the small 'temporary' speakers upstairs, and brought my main set of speakers down here, hooking them up to cables that had been prepared for them some years ago, when I was framing these walls.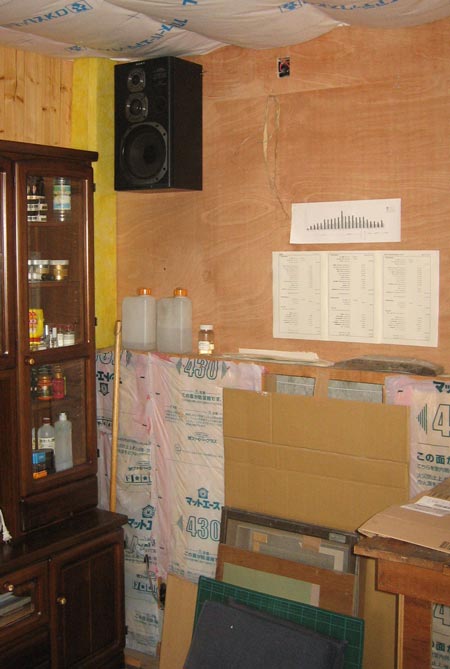 And then ... drum roll, please! I unpacked a box that has been 'sleeping' and waiting for this moment for over ten years - ever since I moved into this place.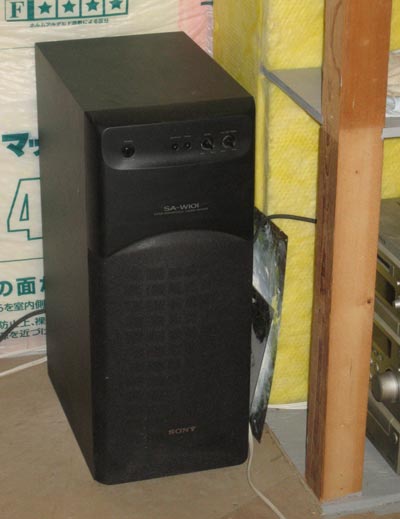 Woof, woof! :-)
Yes, a sub-woofer unit! I haven't been able to use this for a long time, because the houses here are simply too close together (not to mention all being very light wood-frame construction). But down here in this completely concrete workroom - which is now stuffed with dense insulation to boot - we're ready to roll!
It's not something that will be turned on while playing light background music during the times that the ladies are here, but once they've gone home, I can let 'er rip ...
Time to make up for all those years as a teenager (and after) when all I had was the lowest of lo-fi scratchy record players!