Posted by Dave Bull at 2:15 AM, November 28, 2011 [Permalink]
After a weekend of printing the story sheets (on my Epson laser), and the backboards (on a large Epson inkjet), we're ready to get packing and shipping.
I say 'we', but I mean they! Printer trainees Tsushima-san and Ishigami-san set aside their barens today (and will again tomorrow) for a packing day. In recent months, I have been doing this job by myself, but that doesn't really make much sense, I think.
So although the three of us spent the day in the workshop together today, I kept to my carving bench, where I finished up the key block for the new year print, and the two ladies set up the large table on the back wall and started wrapping. I used my new 'time lapse' camera to capture their day, and here are a few scenes it caught.
They worked from left to right, Tsushima-san preparing the print and paperwork, then passing it to Ishigami-san for wrapping and labelling: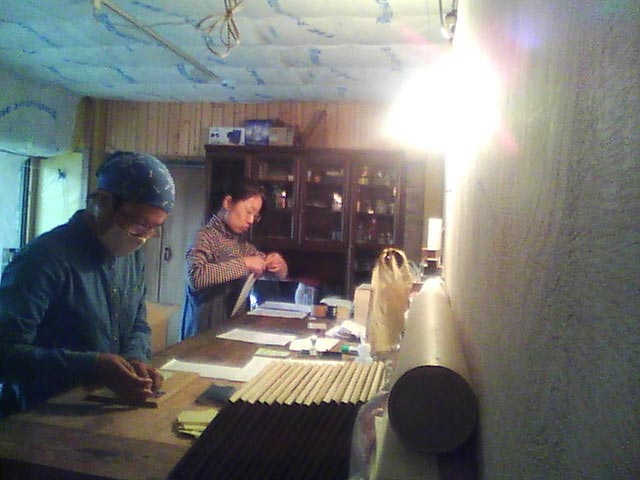 Seems like they were having fun ... at least at first!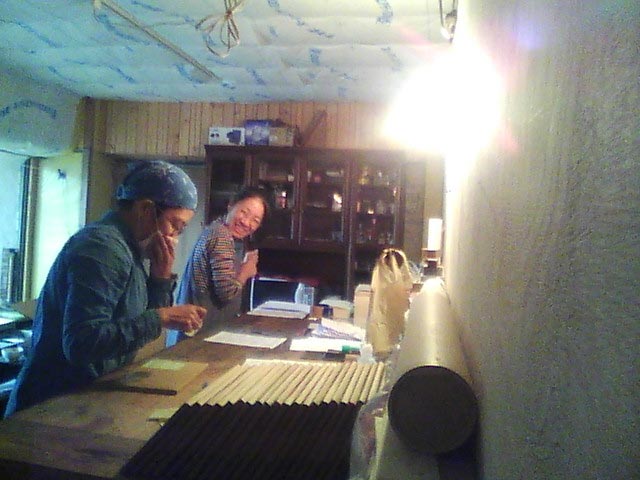 I'm out of view of the camera, in my alcove over by the windows. But at one point, the doorbell rang from upstairs ... I had to head up to accept a delivery:
While the cat's away ...
... the mice will stretch!
They kept at it right through the morning, building up quite a pile of print packages: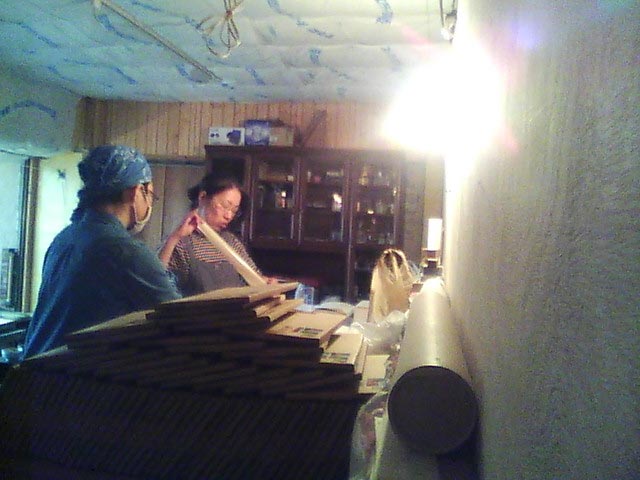 The stack got to be a bit too high, so Ishigami-san packed them all into boxes, and cleared off the table ...
... which soon started to fill up again.
They both have to head off fairly early in the afternoon to pick up kids from the daycare center, so they called it a day after finishing the overseas batch (which I then took to the post office). Tomorrow the domestic collectors will get their turn ...