Posted by Dave Bull at 2:03 AM, October 22, 2011 [Permalink]
In a post I made yesterday over on the Mokuhankan Conversations, I included a photo of the two ladies working away. At the top of the image, you can see one of the (many) places where the construction of this workroom has been stalled for quite some time - one of the roof beams still not insulated: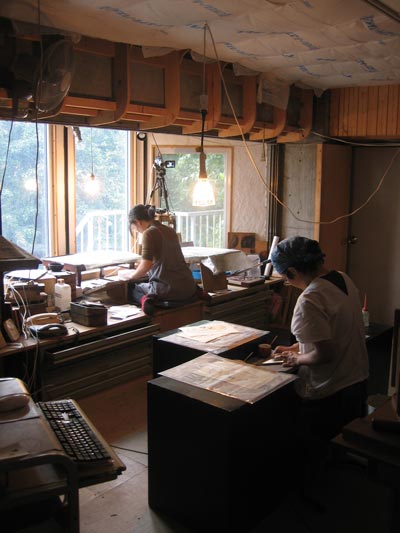 If we tilt the camera up just a bit, we can see right through the hole in the ceiling up to the level above (this is where the stairs will go ...)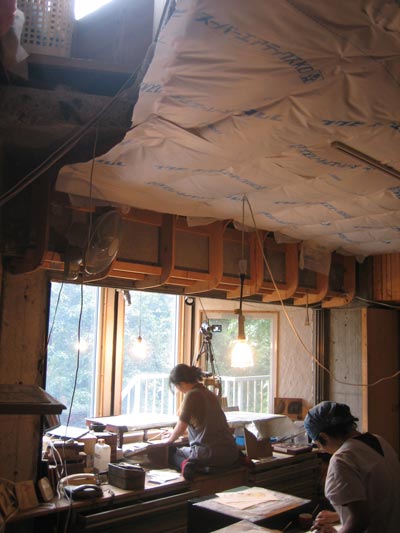 While the three of us were working the other day, our discussion turned to the topic of the approaching winter. Both of them are already thinking that this room is a bit 'chilly', and as this is only mid-October, they are understandably concerned about what is coming up.
I then made a bit of a mistake by recounting an anecdote about some left-over coffee in a cup one day last winter, and what happened to it overnight ...
The upshot of our conversation is that they both made it pretty clear that there are limits to what they are willing to put up with in order to keep their jobs, and working at near zero temperatures isn't one of them!
Well of course, I haven't been expecting them to work under the same conditions that I myself have done, and this is actually another of the reasons why I moved ahead with the idea of opening up this place to other workers. It'll provide a push to finally get me moving forward with the construction ...
So I got on the 'net and started ordering some of the supplies I will need for the next steps, and things have started to arrive. Blocking the entranceway this evening is a big fat pack of fiberglass insulation that will wrap that beam we just saw:
Down in the B1 level are a few boards that will make up the 'box' of the stairwell: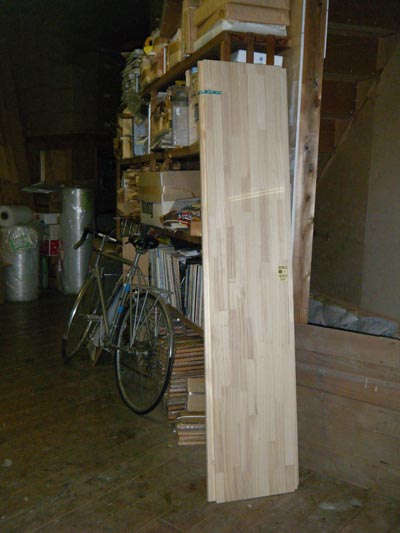 And standing at attention down in the workshop is a giant package of pressed fiberglass 'boards' that will be used to panel the concrete ceiling in the printing alcove, as well as the remaining exposed concrete surfaces on the support pillars.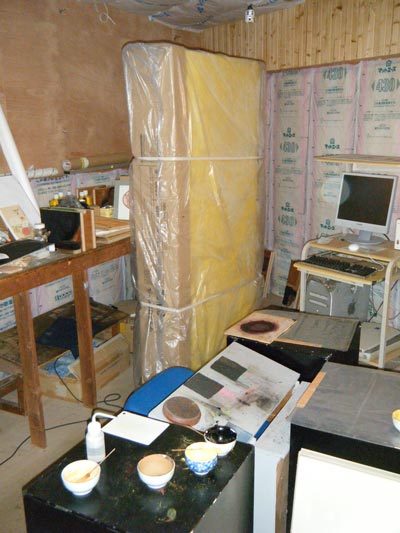 I'm sure the ladies will be very happy to see this stuff. Although just when I'm going to be able to cut these open and get to work I can't say. I have another 2~3 days of Gift Printing still to do, and then it'll be time to get started on Mystique #17, hopefully before the waiting collectors give up in disgust.
Cross your fingers that we have a nice long extended warm autumn!