Posted by Dave Bull at 9:08 AM, June 9, 2011 [Permalink]
Now that printing on Mystique #14 is about to begin, I guess it's time to talk about the design for this one. Let's see where it came from ...
Exhibit #1 - a pocketbook on 'Chiyogami' (Japanese traditional printed papers):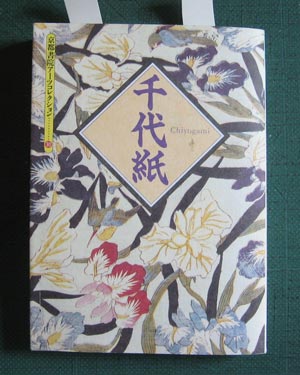 Although most of the book is indeed about chiyogami, there are a number of pages inside that show leaves from a Meiji-era pattern book. One - a quite modern design, with the patterns framed in 'tsuba' (sword guard) shaped outlines - caught my eye:
This seemed like an interesting concept for the print, but the particular patterns in this example weren't so attractive to me (at that moment). A few pages on, this came up:
Yes!
Next step was the decision to use two patterns on this image, rather than the three that were on the original page. Using three would simply make them too small to enjoy. Back to my bookshelf, for Exhibit #2, another pattern book, this one from early Showa:
Readers of my David's Choice eBook might recognize this, as I featured one of the leaves in that production. This spread caught my eye this time:
This miniature bamboo forest would do just perfectly for the second pattern in our print. And as an added bonus, that swirly background pattern also looks useful ...
So there are the 'parts'. It's now Thursday morning, and in a few minutes I'll be heading down to the workshop for the first test printing. I don't anticipate any particular problems to arise, and I certainly hope none do, as this will be a live-on air session of the new, improved Woodblock Webcam, complete with 'drop in' guests I think ...