Posted by Dave Bull at 7:31 AM, April 5, 2011 [Permalink]
OK, let's wrap this one up!
As I mentioned previously, I have included one of the two poems from the original surimono on which this print is based. And no, I'm not going to make a translation, sorry. These old kyoka were really created 'for the moment', and that moment was nearly 200 years ago. The allusions and wordplay are all pretty much gone now, and although a specialist can extract some of the original meaning, it would probably take a full essay to bring it to life. Game is not worth the candle. Just enjoy the visual object. (And incidentally, the same thing goes for most contemporary Japanese, who cannot read the archaic script either ...)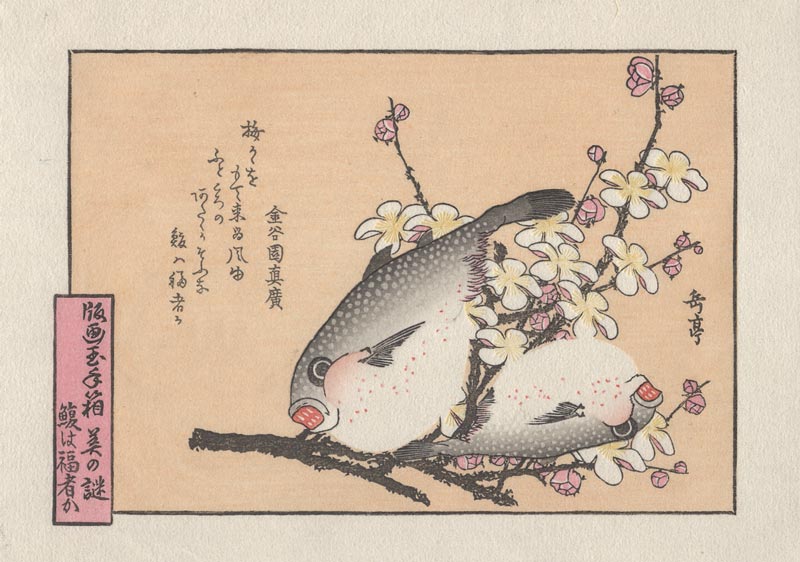 Just two more impressions left, neither of which are going to use any pigment. First, the surrounding embossed pattern:
This is a karazuri, produced by placing the paper face-down over the carved pattern, and rubbing the back with the baren. Note that the back of the paper stays flat, and that the 'raised' parts of the embossment are not actually raised. They are untouched paper; it is the surrounding parts that have become flattened.
That's quite different from this next step - also 'embossing' - but which is the kimedashi:
For this, shallow depressions were cut in the block surface: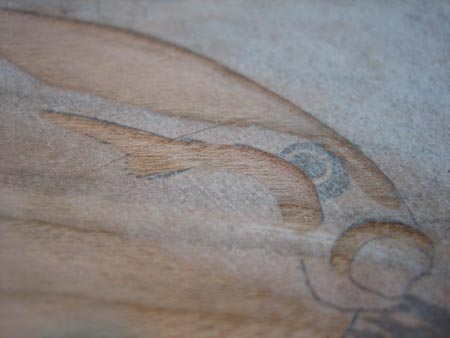 The paper was placed over this face down, and then pushed down into the recess. For this you need a smooth and firm tool (boar's tooth was apparently commonly used for this in the old days.) I used the smooth and firm end of a plastic pen, something the 'old guys' didn't have available!
Here's a quick snapshot of the result, in front of a window under raking light.
So she's done! Nice one I think ... 'quick 'n easy!'
The next few days for me are going to be a whirl of other work: postponed desk jobs, web site updates, a quick hospital visit to a friend/collector I haven't seen in a year or so, a hanami party on Friday night (yes, we are still doing those here in Tokyo this year!), and a 'coming-of-age' party for another long-time friend/collector on Saturday. I also have to get this print checked, signed, sealed, trimmed, and ready for shipping, along with doing the associated bookkeeping (collectors, watch out for your invoice in the mail tomorrow!)
And I almost forgot! Carver Sato-san phoned to let me know that the key block for the senshafuda print set is almost done, and that he wanted a meeting to organize colour distribution. We've setup to meet over at Tetsui-san's place (the young printer hired for this job) to work it out together, on Thursday morning ... [Later update: the meeting took place as scheduled, and a report is here.]
Just when I will be able to get back to the bench to begin work on the second batch of these prints I can't say ...