Posted by Dave Bull at 7:39 AM, March 23, 2011 [Permalink]
The surreal nature of daily life here in Japan has continued during the week - surreal because of the incredible contrast between what is on the news (natural destruction and nuclear dangers), and what one sees outside the door ... peaceful sunny days of quiet normal community life.
The only real impact on me here in Ome has been the electrical blackouts, with their associated transportation disruptions. There is a five-day schedule, in which we have a single three-hour blackout scheduled every day (the time varies each day), and two of them on two of the five days. But they don't actually happen every time; if the power company has enough reserve power as the moment approaches, the blackout is cancelled. It's all quite localized; Sadako-san lives only a few miles from me, yet she has had far fewer of them.
I wrote a little piece in the A Story A Week series about the blackouts the other day, and this little pair of photos shows my room at that time. Here's the scene: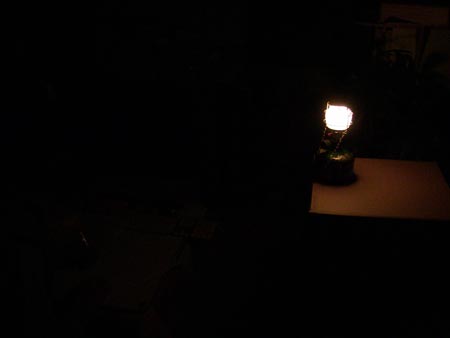 And again, this time with the camera flash turned on ...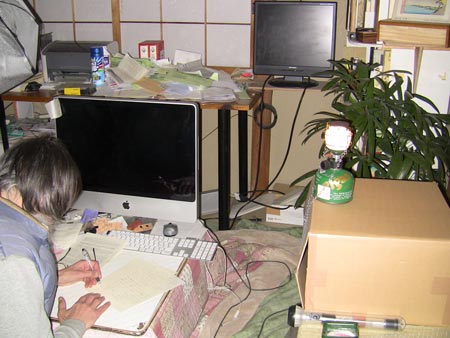 Despite the apparent darkness in the first photo, I was actually able to sit there and write, by the light of the lantern.
Anyway, onward! Work on two fronts has continued during the week - on the new Senshafuda project (more about that soon), and of course on the next print in the Mystique series.
The key block is done, and I am ready to begin cutting colour blocks.
The print is a reproduction of (part of) a surimono by Gakutei, dating from about 1840 or so. When I selected it for the series a few months ago I took note of the season it would be published, and selected a design featuring plum blossoms. Unfortunately, the blossoms in front of my home have now fallen, so the local collectors at least will be somewhat disappointed in my bad timing, but in the long run, it won't really matter; people will be able to display these prints on their own schedule ...
Many of the old surimono incorporated poetry into their design, and I have included one of the poems from the original. The calligraphy is pretty small, so I inlaid a chunk of boxwood for that job.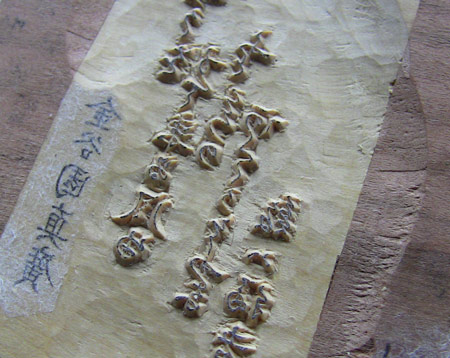 Seems I still have the eyes for this kind of work ... although I really don't know just how much longer I will be able to get away with it ...
And there will be yet another block involving small-scale work. The plum blossoms are drawn in considerable detail, as you can see from this image taken from my computer screen while I am tracing them with my Wacom tablet:
More tomorrow (I hope) over on the Mokuhankan Conversations ...