Posted by Dave Bull at 8:16 AM, September 16, 2010 [Permalink]
Today was the first day of filming for the 30-minute NHK program. It was pouring rain all day, so we weren't able to do any of the planned outdoor scenes, and stayed in the downstairs workshop most of the time.
Before they arrived, I set up my Webcam in one corner of the room, and set it to 'record' mode, as well as broadcast. Here are a few snaps from the day - how many of these will you be able to spot in the final program?
The camera guy used what has become a 'standard' shot in this workshop - first shooting the flowing river:
Then panning over to my bench: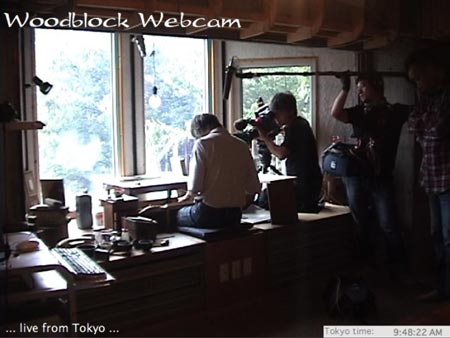 At times during the day, the 'real' cameraman came near my own camera; I don't think he noticed it ...
After they had enough printing shots, they grabbed some of the tools and materials. Here they are shooting my pigments, while I peek at the email ...
They then discovered my baren drawer ...
... and gathered together some brushes. (I'm watching out the window to see if the kingfisher was around; he's frequently here just about an hour or so before noon ... But no luck today ...)
They are all gathered around a layout of printing blocks on a mat on the floor; Dave watching like a hawk to see that none of them get scratched!
Then time to switch to carving. I first cleared away all the printing setup ...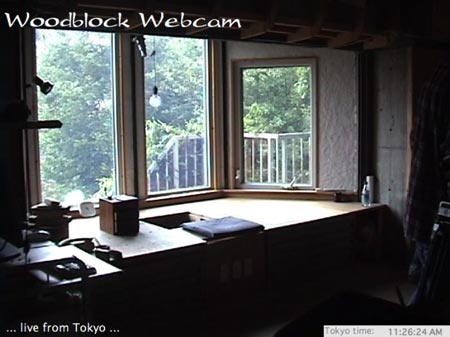 ... and we got busy at it. (Notice my change of clothes to make it look like a different 'time' ...)
It was difficult for them to get the angles they wanted, with me being hunched over the block so closely, so they tried from this way and that ...
They then took some shots of my carving tools to finish off the session down here.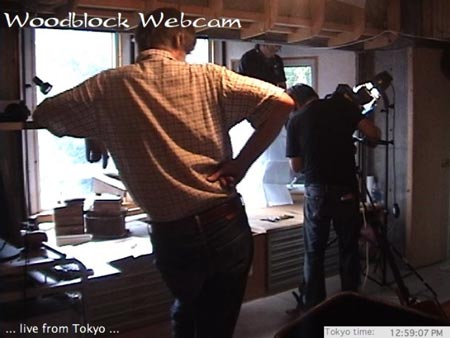 Next part of the 'script' was to jump in their truck and head off on a visit to Cho-san the baker, my first collector. Forgot something?
Oops!
All done ...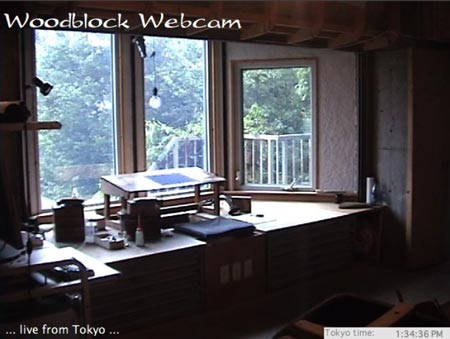 Tomorrow's plan will involve filming in my 'library' upstairs - looking through some of my collection - along with a little stroll up into the woods above my home. They want me to take my tent and some gear, and 'recreate' a scene from the My Solitudes project. Maybe something like this ...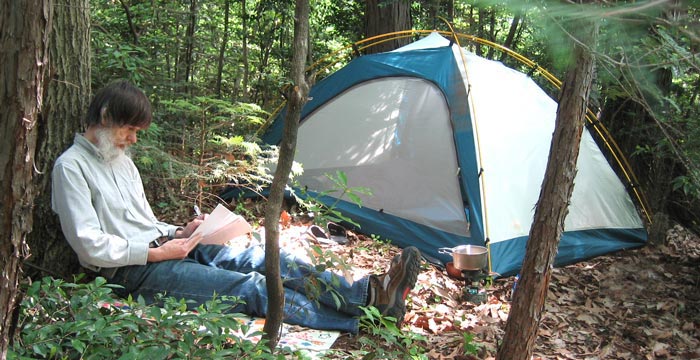 ... but only if the rain quits!