Posted by Dave Bull at 6:24 AM, May 6, 2010 [Permalink]
A few weeks ago, we saw some of the views 'from my window' ... time for another one today!
But first, the view looking back at the house:
If you look carefully, you can see that there is indeed a house in there somewhere!
Here's what I see out the window directly behind my computer screen:
And this is the storeroom upstairs ... (difficult to shoot both the darkish room and the bright outside ...):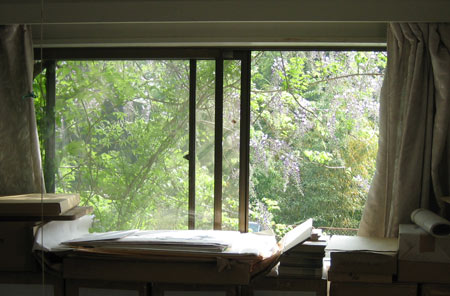 This is what it looks like looking down from that window to the street below:
This is the view from my bedroom window:
And this was taken from the upstairs balcony:
Perhaps because of the fairly cool spring we've had, I'm not sure, but this wisteria has gone crazy this year, with far more blossoms than in previous years. But once the flowering is finished, I'm going to have to call one of the neighbours - a man who works in roofing - and get him to bring over a tall ladder. We're going to have to cull a bit of this thing. I don't mind having it spreading around like this, but it has arrived at the front of the house, and obviously intends to follow all the wires and cables ... and that's trouble ...